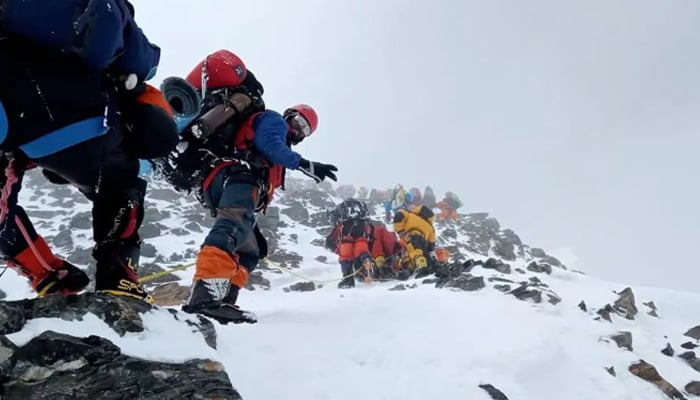 Under mountains that dagger the sky, a misfit caravan of Pakistani porters trudge towards K2 toting live chickens and lawn furniture for adventurers seeking an audience with the world´s second-highest peak.
It´s a dozen-day round trip, some 270,000 burdened steps in lopsided plastic loafers, tie-dye headbands and leopard-print pyjamas, climbing to a glacial perch under one of the most awing sights on Earth — the apex of the Karakorams 8,611 metres (28,251 feet) above.
Pakistan´s dragging economy spurs them in this risk, even as it drains the rewards. The wilderness is shrinking with the creeping advance of roads, promising safer routes but less work. The mountains romance their souls, even as the peaks and troughs punish their bodies.
Seven decades after K2´s first summit, the hardscrabble lives of the men shouldering expeditions up to such great heights are at a crossroads.
"I love the mountains," says 28-year-old Yasin Malick, tasked with ferrying a crate of 180 eggs for a tour group joined by AFP journalists.
"My paternal grandfather, maternal uncle, father were all in this line of work," he explains. "Now it´s my turn."
Yet in the same breath he pledges the tradition won´t pass to younger generations: "I will carry loads till the day I die but I will not let them carry it."
Different worlds
Tour operators typically quote between $2,000 and $7,000 for the trip starting in Askole — a village in Pakistan´s northeastern Gilgit-Baltistan region where jeeps end their muddling journeys and spill trekkers sporting neck pillows and parasols, as well as more hardbred mountain-climbers.
Porters — doing the dogsbody work carting luggage, dining tents and pantries of provisions — make something like 30,000 to 40,000 rupees ($105 to $140) each trip in the four-month summer season, less than the price of high-end hiking trousers one firm recommends clients wear.
Over the past year the purchasing power of that meagre wage has ebbed, with inflation standing at 28 percent in July, as Pakistan came to the cusp of default before an IMF intervention offered some paltry relief.
"Now with this job I´m finding it difficult to pay for household necessities," said 42-year-old Sakhawat Ali. "I don´t have a choice but to come here and work hard."
But his tone lifts irresistibly as he describes the mountains. "They each have different colours which allows me to witness different worlds," he says.
Porters — all male, spread from young adulthood to pensionable age — report carrying up to 35 kilograms on the 2,000-metre ascent, much crammed in blue chemical storage drums lashed to metal backpack frames.
On the odyssey to Basecamp hikers take a sauntering pace, pausing for picnics, as porters power ahead at sunrise on spartan diets of chai and chapati after a night under plastic sheet shelters.
Mules also carry a large share of the cargo and their desiccated corpses litter the half-formed trails.
"Sometimes it´s cold, sometimes it´s raining, sometimes the weather is harsh," said porter Khadim Hussain.
"Young age has no match," the 65-year-old says. "I wasn´t afraid of anyone, anything -- there was no fear."
"My age is not the same now: my age has passed."
Fake fruit at altitude
Nowadays K2 Basecamp has bowls of fake plastic fruit, wine glasses and fairy lights — a sign the "savage mountain" has been tamed by commercial forces riding the backs of porters who are "the lifeline for the mountaineers" according to Alpine Club of Pakistan president Abu Zafar Sadiq.
But those small luxuries have not trickled down to the porters, who must pester tourists for crude medical treatment, head torch batteries and mobile phone power banks.
Fresh routes are being blasted across valleys and hacked through the ice, promising to make their lives easier and safer. But the porters are uneasy about how it will affect job prospects.
In Urdukas — an eagle´s nest campsite above the Baltoro Glacier, a rippled and restless maze of ice and stone which must be negotiated for five days — a plaque pays tribute to three porters killed by rockfall while "serving the cause of tourism" in 2011.
But here the porters stage a celebratory song-and-dance session, taking turns to whirl to a jerrycan drumbeat on a stomach-wrenching overhang.
"My connection with the mountains is like a small child´s connection with his mother," says 42-year-old head porter Wali Khan.
"It´s like a craze," he says. "A lot of our climbers have been buried under the snow up here. They also knew they would die some day, but they´d still go."
"Their hearts were attached," he says. "The way your heart gets attached to a beloved."