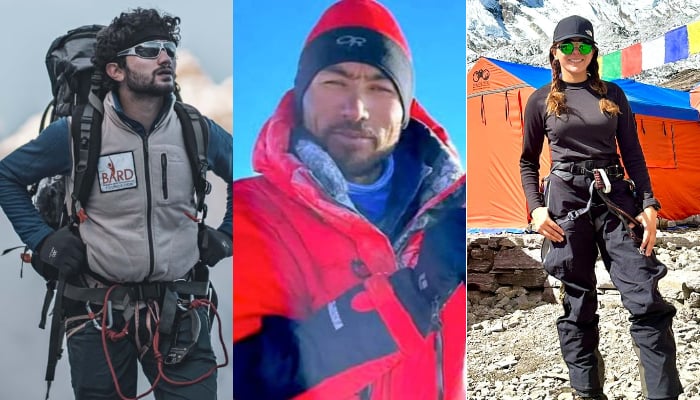 KARACHI: Pakistan's young mountaineer Shehroze Kashif is set to re-summit 8136m tall Mt Manaslu in Nepal after it was revealed that all previous summits done on Manaslu were not the actual summit point.

Shehroze was 19 years old when he first scaled Manaslu on 25th September 2021 but two days after his summit it was revealed that the summit point that Shehroze and several other climbers had reached was not the actual summit point and the "real summit" was 10m ahead of that.
Though the mountaineering authorities in Nepal had validated Sheroze's summit along with all other previous summits, the Pakistani climber had announced that he will not count Manaslu in his 14 project and would attempt to climb the world's 8th highest peak once again.
Shehroze confirmed from Nepal on Saturday that he has completed his rotation on Manaslu and will start his summit push on Monday with the aim to reach on top by the 20th.
"As I promised to climb Manaslu again, now this is the time to fulfill my promise, even though I didn't include my previous summit of Manaslu in my '14 project', I feel it is my duty as a climber to go back and raise my country's flag on top of the real summit of Manaslu," he said.
Another Pakistani climber, Sirbaz Ali, who had earlier climbed Manaslu in 2019 is also at Manaslu basecamp and will be aiming to reach the real summit of the peak.
Both Sirbaz and Shehroze have climbed 12 out of 14 peaks of over 8,000m in the world. This tally of 12 includes their previous climbs of Manaslu.
Meanwhile, Pakistan's most decorated female climber Naila Kiani is also aiming to become first Pakistani woman to climb Manaslu.
Naila has joined Sirbaz and Shehroze on the Manaslu basecamp and she has also completed her rotation to get acclimatized.
Kiani is the first and only Pakistani woman to have climbed 8 peaks of over 8,000m and Manaslu will be her 9th. She is aiming to become the first Pakistani woman to have climbed all 14 peaks of over 8,000m.
According to details, a Lahore-based duo of husband-wife is also attempting to climb Manaslu and if they're successful, they'll become the first Pakistani couple to climb any 8,000m peak together.