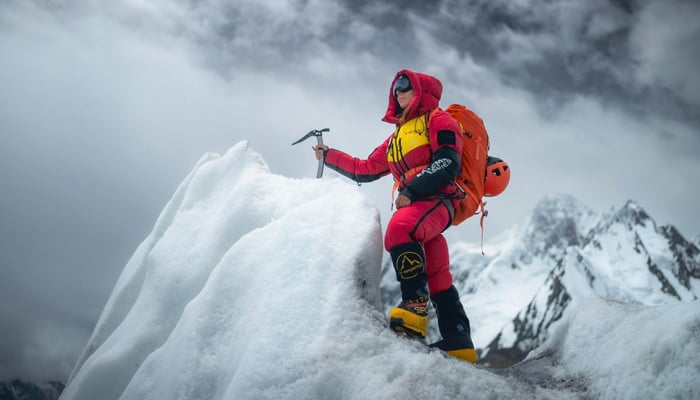 KARACHI: Naila Kiani, once a banker in Dubai, has etched her name in the mountaineering history books by becoming the first-ever female climber from Pakistan to scale all five eight-thousanders (peaks of over 8,00m) in the country.
In total, she has total of eight climbs of over 8,000m and she's first and only Pakistani woman to do so.
Naila recently scaled Nanga Parbat and Broad Peak to complete her feat of scaling all five highest peaks in the Pakistani territory.
The mother of two started her journey only two years back when she became the first Pakistani woman to climb 8,035m tall Gasherbrum II – the world's 13th highest mountain.
What she attempted just as an experiment became her passion and since then she has never looked back.
"Though I was always into sport, but I never aimed to be a mountaineer," Naila told Geo in an exclusive interview.
"The first thought came when I went to K2 basecamp for trekking where I saw some mountaineers, I wanted to feel how it is to climb a mountain and what it takes to be on top.
"I picked Gasherbrum II as my first peak, I wasn't even sure if I will be able to make it on top, but it went successful and I kept on trying one peak after another."
Since climbing G-II in 2021, Naila has climbed K2, Gasherbrum I, Annapurna, Mount Everest, Lhotse, Nanga Parbat and the Broad Peak.
She was the first Pakistani woman to be on top of six out of eight of her climbs. Samina Baig – who hails from Hunza – was couple of hours ahead of Naila at K2. Samina had also climbed Everest in 2013.
However, now Naila is undisputedly the most successful female mountaineer in country.
"It seems so unbelievable to me, sometimes I wonder how did I manage to do all this, how did this all happened," she said.
"It is an honour for me to be first Pakistani female to climb so many mountains," Naila added.
Kiani said that that the journey wasn't easy and she had to deal with so many challenges, but she always believed that there's nothing that can't be achieved.
She added that it is always difficult to leave behind her daughters – aged two and four.
"It is difficult, especially when I plan my expedition and to think that I am leaving them behind and going on mountains but when I am on mountains, whenever I am on a challenging path, thoughts about my daughters become great source of energy for me," she said.
Naila further highlighted that the mountaineers in Pakistan do not get enough support from public sector and the infrastructure needs to be improved if authorities are serious about mountaineering in Pakistan. She also stressed on improving rescue facilities on Pakistani mountains.
She is now hopeful of climbing remaining six eight-thousanders and become first Pakistani woman to scale all 14 peaks of over 8,000m.
"I want to climb as soon and as much as possible," she said.
Naila also aims to set an example for her daughters.
"I want to give them a message that there's nothing impossible in this world, everything can be achieved," she said.
"I want to tell everyone that always keep your goals alive and go for high targets, never stop because there's no obstacle that can't be cleared in this world," she said when asked what's her message to the other women who want to make a name in mountaineering.
Faizan Lakhani is Deputy Editor (Sports) at Geo News.