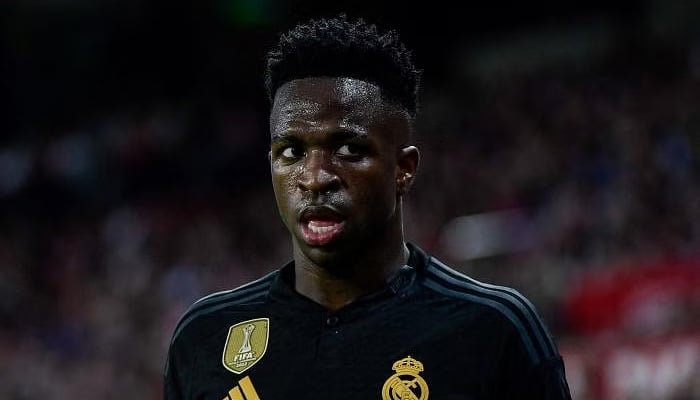 Brazilian forward Vinicius Junior became the latest addition to Real Madrid's growing injury list as the left-winger is likely to be out for 10 weeks, confirmed a renowned journalist Jose Luis Sanchez on Sunday.

Vinicius, 23, was forced to leave the field following a thigh injury he sustained during the match between Brazil and Colombia in the 27th minute.
"After the tests carried out today on our player Vinicius Jr. by the Real Madrid Medical Services, he has been diagnosed with a rupture in the femoral biceps with involvement of the distal tendon in his left leg," said the club in a brief statement.
Vinicius is now guaranteed to miss two and a half months of action which means he would miss at least 14 matches as the goal for him is to return for the Madrid derby in February.
According to Javier Birlanga, — a journalist who works for GOAL, Marca and other reliable outlets — Real Madrid are very angry over Vinicius' injury as this is the second injury the club had to suffer in two days and they blame big organisations like FIFA, UEFA, La Liga and others for making a schedule that suffocates and crushes the players.
Vinicius' injury came just two days after his teammate Eduardo Camavinga got injured during a training session with the France national team after clashing with Ousmane Dembele.
Camavinga has been ruled out till the start of January 2024 and is guaranteed to miss seven matches (five league and two UCL) while he would still remain a doubt for the three other matches.
The Whites' injury list has once again increased and Vinicius is the latest addition. They are already without their first-choice goalkeeper and centre-back Thibaut Courtois and Eder Militao as both players tore their Anterior Cruciate Ligament (ACL) and are expected to mark their return in late April 2024.
Jude Bellingham, Camavinga, Aurilien Tchouameni, Arda Guler and Kepa Arrizabalaga are the other players who are currently out due to an injury.
Kepa will be back in two weeks just like Bellingham while Tchouameni and Guler are likely to start training again in December. Camanvinga's goal is to mark his return at the start of January 2024. Meanwhile, Vinicius will return in February 2024.