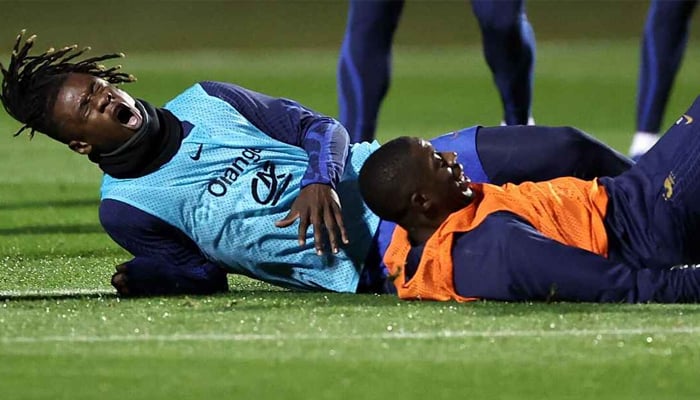 Real Madrid's midfielder and one of the most important players Eduardo Camavinga has been ruled out for the rest of 2023 following a knee injury he suffered during a training session with France's national team, reported Spanish news outlet Relevo on Thursday.
Camavinga, 21, hurt his knee after a clash with Paris Saint-Germain forward Ousmane Dembele during a training session. Dembele slipped as he was trying to dribble the midfielder and collided right with the 21-year-old's knee.
Camavinga didn't complete the train and told the French medical staff that his knee had turned.
WATCH
Camavinga is now guaranteed to miss seven matches (five league and two UCL) while he would still remain a doubt for the three other matches.
With this injury, Madrid's head coach Carlo Ancelotti only has three fit midfielders — Federico Valverde, Toni Kroos and Luka Modric — at his disposal as of now and the Italian may be forced to call up youngsters from Real Madrid Castilla.
However, there is one good news for Los Blancos as midfielder Dani Ceballos has started training with the team and can be called up for Madrid's next clash after the international break.
The Whites' injury list has once again increased and Camavinga is the latest addition. They are already without their first-choice goalkeeper and centre-back Thibaut Courtois and Eder Militao as both players tore their Anterior Cruciate Ligament (ACL) and are expected to mark their return in late April 2024.
Jude Bellingham, Aurilien Tchouameni, Arda Guler and Kepa Arrizabalaga are the other players who are currently out due to an injury.
Kepa will be back in two weeks just like Bellingham while Tchouameni and Guler are likely to start training again in December. Meanwhile, Camanvinga's goal is to mark his return at the start of January 2024.