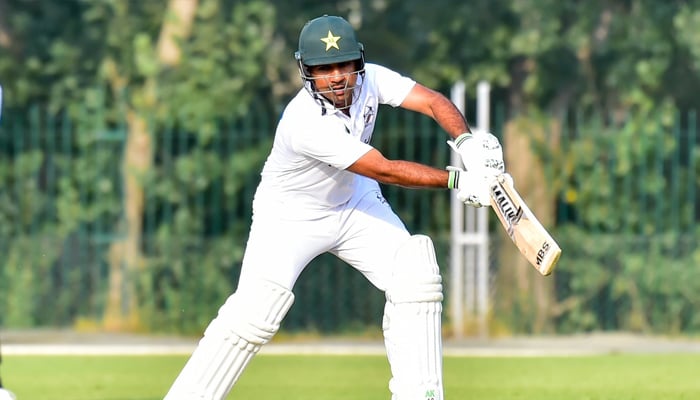 On the third day of the QeAT 2023-2024 round two, both Lahore Whites and Karachi Whites decided to conclude their innings after achieving scores exceeding 400 in their respective matches. In particular, Karachi Whites were bolstered by unbeaten centuries from Asad Shafiq and Sarfaraz Ahmed during their first innings.
Lahore Whites vs. Rawalpindi
On the second day of this match, only 10.3 overs were bowled due to persistent rain and a wet outfield, resulting in play being called off. Lahore Whites were at 407-3 at stumps on that day. When play resumed on the third day, Saad Nasim declared the innings without adding any more runs to their overnight score due to the continued wet conditions.
Rawalpindi responded with a solid opening partnership, amassing 107 runs. Even after losing Hasan Raza, Abdul Faseeh and Ashfaq Ahmed held the crease, with Abdul scoring a century and Ashfaq reaching a half-century. By the end of the day, Rawalpindi had reached 232-1.
Karachi Whites vs. Faisalabad
At the close of the second day's play, Asad Shafiq and Sarfaraz Ahmed were at the crease for Karachi Whites with a score of 203-5. On the third day, the experienced duo of Asad and Sarfaraz, scoring 108* and 128* respectively, extended team's total from 203 to 434. Their outstanding 234-run stand significantly put Karachi Whites ahead of their opponents.
Faisalabad's bowlers struggled to dismiss either of these well-set batters, leaving them with a daunting deficit of 434 runs to overcome. Faisalabad's batters faced immense pressure from the scoreboard and struggled, ending the day at 63-6.
Peshawar vs. Multan
Peshawar had finished the first day at 43-2 after batting for 17 overs. Unfortunately, the second day's play was washed out due to rain and unfavorable ground conditions. Therefore, Peshawar resumed their innings on the third day at 43-2. The Sahibzada Farhan-led side had difficulties maintaining partnerships throughout most of the day. However, a partnership of 73 runs between Kamran Ghulam and Abbas Ali provided some relief.
Mohammad Imran broke this partnership by dismissing Abbas. Kamran's reliable knock of 117 runs helped Peshawar reach a total of 263 before they were bowled out. Sirajuddin, a medium-pacer, claimed four wickets, while Majid Ali took three wickets. Multan would begin their batting innings on the following day.
FATA vs. Lahore Blues
Lahore Blues began the day with a score of 83-3, with Qasim Akram and Hussain Talat at the crease. Although Hussain was dismissed shortly afterward, Qasim's half-century contributed positively to their total. Waqas Ahmed also scored a half-century, and Junaid Ali added 49 runs to help Imran Butt's team post a total of 314, giving them a lead of 174 runs.
FATA, already trailing in the game, lost four early wickets and found themselves in a difficult situation. Khushdil Shah and Salman Khan Jnr initiated a rebuilding effort, and by the end of the day, they had formed an unbeaten partnership of 79 runs. FATA concluded the day at 127-4.
Scores in brief:
Lahore Whites v Rawalpindi
1st Innings
Lahore Whites: 407-3 (declared) in 100.3 overs (Ali Zaryab Asif 182, Ahmed Shahzad 102; Kashif Ali 2-88, Munir Riaz 1-75)
Rawalpindi: 232-1 in 63 overs (Abdul Faseeh 113*, Ashfaq Ahmed 51*; Mohammad Irfan 1-74)
Karachi Whites v Faisalabad
1st Innings
Karachi Whites: 434-5 (declared) in 114 overs (Sarfaraz Ahmed 128*, Asad Shafiq 108*; Mohammad Ali 2-82, Khurram Shahzad 2-124)
Faisalabad: 63-6 in 27 overs (Mohammad Huraira 19; Aftab 3-14, Ghulam Mudassr 2-16)
Peshawar v Multan
1st Innings
Peshawar: 263 all out in 82.3 overs (Kamran Ghulam 117, Abbas Ali 34; Sirajuddin 4-45, Majid Ali 3-41)
FATA v Lahore Blues
1st Innings
FATA: 140 all out in 49.1 overs (Salman Khan Jnr 40, Mohammad Wasim Khan 23; Hunain Shah 3-22, Hussain Talat 2-28)
Lahore Blues: 314 all out 73.3 overs (Waqas Ahmed 53, Qasim Akram 51; Aimal Khan 3-82, Akif Javed 3-85)
2nd Innings
FATA: 127-4 in 34 overs (Salman Khan Jnr 66*, Khushdil Shah 37*; Waqas Ahmed 2-37)