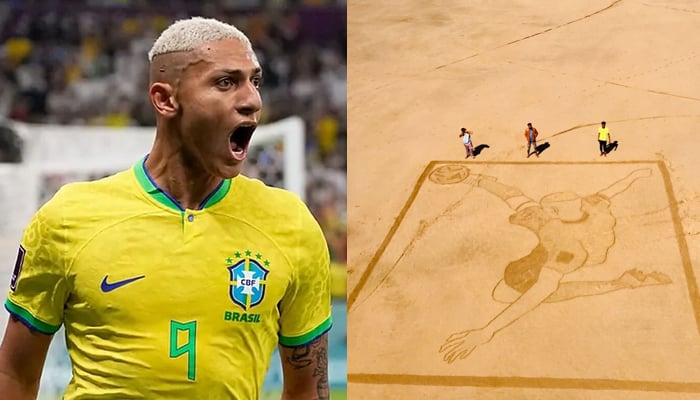 Brazil's young star footballer Richarlison was impressed by the sand art of the famous goal he scored at the FIFA World Cup 2022. 
The sand art made by Gaddani artists group managed to gain the attention of Richarlison on social media. The art portrayed the footballer's bicycle kick to score a goal against Serbia at group stage in the mega event last year. 
The star footballer shared the art on his Instagram story after which the talent of Pakistan got space in international media. 
Sameer Shaukat, one of the members of Gaddani artists group, told GeoSuper.tv that it was an exceptional feeling for his team. 
"We are very excited after Richarlison shared our art," he said. "We are the lovers of football and we made sand portraits of different players during the World Cup too," he shared. 
Shaukat wished to meet these football stars one day. "We want to meet them. A couple of international media outlets contacted me personally for sharing my art. I requested them to let us meet these players," he added. 
Earlier during the ICC T20 World Cup 2022, Gaddani artists group's sand portrait of Virat Kohli went viral on social media. Pakistani pacer Shahnawaz Dahani showed that portrait to former Indian captain who then posed for a picture with it. 
Shaukat and his group of friends formed Gaddani artists group to highlight this beautiful area of Baluchistan through their art.