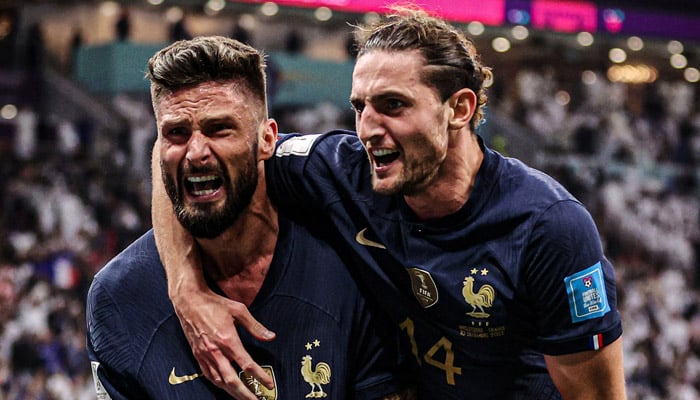 Olivier Giroud took a lead for France in 78th minute as the defending champions beat England 2-1 to qualify for the semi-final of FIFA World Cup 2022 in Qatar today. 
Giroud, with his brilliant header just 12 minutes before full time, kept France's hopes alive to defend the title. 
Aurelien Tchouameni put France in the driving seat after he scored a leading goal in 17th minute. Pumped up England knew the importance of scoring an equaliser before half-time but they failed to do so. 

Luckily, nine minutes to second-half, England got a penalty following a foul by the French midfielder Bukayo Saka. England's skipper Harry Kane struck penalty shoot right on the target to score an equaliser for the English team. 
The two teams came on the same page, hunting for a lead to qualify in last four of the mega event. 
In 78th minute, Giroud struck a match-winning header into the goal thanks to Antoine Griezmann's cross. France took lead to shatter the hopes of England. 
But, there came a twist six minutes from the final whistle. England got a penalty but this time Kane missed the target completely. Confident skipper skied the ball and England's confidence went down. 
Marcus Rashford got a free kick in last moments of the game but luck didn't favor the three lions.
France will play Morocco for a place in the final on Wednesday after the North Africans beat Portugal 1-0 in quarter-final on Saturday.