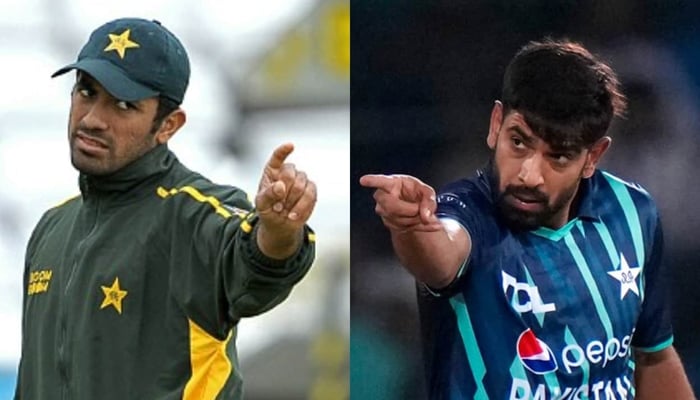 Similar to the Pakistan cricket team, the selection committee is also becoming a little bit unpredictable after the national Test squad for the tour of Australia was announced on 20th November 2023.
New Chief Selector Wahab Riaz named the 18-man contingent but the comments made by him in the press conference while announcing the squad were quite questionable.
Wahab began by announcing the squad first and then he shifted his focus towards Haris Rauf. It felt like Wahab had come prepared to make Haris as the talking point of this press conference. He claimed that they (the selection committee) had considered Haris' name to be a part of the Test squad for the Australia tour. However, Haris himself denied to be a part of the squad as he wasn't sure about his fitness for the longer format.
The question that is being raised is the fact that on what basis Haris' name was considered? Why would you even want a pacer who is aged 30 and is already struggling in ODI cricket?
Haris received great bashing from cricket fans and pundits for refusing to be a part of the team for the Australia tour but he wasn't wrong entirely.
To date, Haris has played only nine first-class matches. He has also played only one Test for Pakistan. His last red-ball match was in December 2022. Imagine being considered for a format in which you have not played for an entire year. There is no denying that Haris is a senior bowler and has experience of playing in Australia but is experience the only criteria to be picked?
We have seen instances of players being picked on the basis of potential that they have or at times a player does well in one format and is added into a different format and it works sometimes. However, if we talk about Haris' ODI performances, then those aren't special either. In the 2023 ODI World Cup, Haris created a record for conceding the most runs in a single World Cup edition. He was one of the major disappointments for Pakistan in this year's World Cup. There is no denying his potential, but the question here is that what exactly is the criteria to be picked in the national team? Good and consistent performances or just the gut feeling of the chief selector is enough?
Another controversial thing that Wahab said was that the selection committee had planned to utilize Haris and wants him to bowl 10-15 overs a day. How can a chief selector assure that a certain player will bowl only a certain amount of overs in one day? What if the situation of the game demands bowling more overs? The statements of Wahab were quite absurd in this press-conference and it made very little sense.
This press conference has raised many questions on the selection criteria of Pakistan. When off-spin all-rounder Imad Wasim said that even after playing domestic and doing well, players are not selected for the national team and that is indeed the reason why Imad is not featuring in domestic cricket, he was bashed by cricket pundits and fans. However, after this media interaction of the new chief selector, Imad doesn't seem to be wrong at all.
When Haris Rauf can be considered for the Test Team without giving any extra-ordinary white-ball performances and without playing a red-ball game for almost an entire year, then what will happen to the domestic performers?
Shahnawaz Dahani, who has been a part of the plans of almost every selection committee and is consistently among the wicket-takers in domestic cricket is always neglected. Even for the Australia tour, he will be a part of the camp but won't be included in the official squad.
Mohammad Wasim Jnr, on the other hand, played his last red-ball game in December too, but he also made his way into the squad directly without any prior red-ball performances.
Passionate Cricket writer and Commentator. Sharing the magic of the game through words.