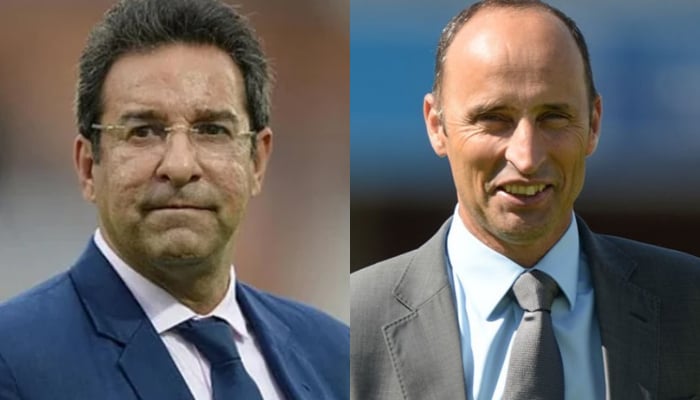 Former Pakistani captain and legendary pacer Wasim Akram slammed England's great Nasser Hussain for defending his team's woeful performance in the ICC World Cup 2023.
Akram, who captained Pakistan in the 1996 and 1999 World Cup, was talking on the Club Prairie Fire podcast alongside Australia's legendary wicketkeeper batter Adam Gilchrist and both cricketing greats dimissed Hussain's explanation on England's poor performance in the World Cup.
"Come off it, Please. What is he [Nasser Hussain] on about?" said Gilchrist on the Club Prairie Fire podcast.
"Everyone thought England are one of the favourites. Your top players on a serious note hardly played any One-day cricket in the last one year. Because I have been doing stats for the past 30 days and I know the stats," Akram said.
"The most number of ODIs played by a player in last year was Jason Roy, he played 30 plus ODIs and they didn't pick him. And players who hardly played any ODIs including their skipper and main batters were in the squad. The ashes court and all was nice excuses boys," he added.
Hussain had blamed the Ashes on Jos Buttler-led unit's woeful display in the mega event saying that an ill-timed scheduled tournament didn't give much time to English batters to recover.
"It's hard for England because of the timing of World Cups on the back of an Ashes series," said Hussain. "There's so much focus on the Ashes that come the end of it, you are mentally exhausted. You look at players like Chris Woakes and Mark Wood and both were mentally and physically exhausted.
"So it's about planning across formats. We need to give each format equal care and attention all the way through. It's hard for England with the timing of a lot of these World Cups at the end of the [English] summer so it's about never taking your eye off any format because if you do, sides will go past you when you think that you're okay."
It must be noted that England failed badly in all departments of cricket in the World Cup as they only managed to win three games and lost six. They were on the verge on missing out on the 2025 Champions Trophy qualification but two late wins in the tournament helped them secure it.