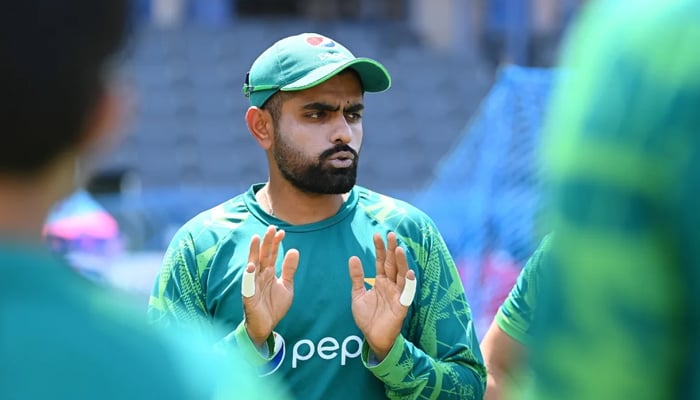 Director of Media and Communications of the Pakistan Cricket Board (PCB), Aalia Rasheed, has said that current skipper Babar Azam could make a decision on his captaincy tomorrow.
PCB has been active after the Men in Green's abysmal performance in the ICC World Cup 2023. Management Committee chairman Zaka Ashraf today met with renowned cricketers to seek their input on the team's performance during the mega event.
Aalia Rasheed confirmed tomorrow Pakistan head coach Mickey Arthur is coming to meet the chairman, while Babar Azam will also do the same.
"Tomorrow, Mickey Arthur is coming, there is a meeting. It would be premature to say anything about the change in the captain of the cricket team," Aalia said.
"It is possible that tomorrow we will hear a decision from Babar Azam himself," she added.
Regarding Zaka Ashraf's meeting with Younis Khan, Mohammad Hafeez, Wahab Riaz and Sohail Tanvir, Aalia said that PCB is taking opinions from them to make better decisions.
"Former cricketers will be given responsibilities at the junior level, cricketers will handle cricket matters," she added.
Meanwhile, she said it is premature to give a final opinion on the meeting with former players with the chairman.
It must be noted that Zaka Ashraf will also meet the head of the PCB Technical Committee Misbah-ul-Haq, who will give his feedback over team's performances and other matters.
On the other hand, Zaka will also meet Umar Gul, Azhar Ali, Saeed Ajmal, Mushtaq Ahmed, Aqib Javed, Mohsin Khan and Moin Khan.
Ashraf will talk about the possible changes in the coaching staff and there will be legal consultation on their contracts as well.
The options of different captains for red-ball and white-ball format are also one of the agendas for the upcoming meeting.
Pakistan's next assignment is the Test tour of Australia where they will play three matches Down Under.
The selection of the Pakistan men's cricket team for the Test tour of Australia will be done by a new selection committee.
The interim selection committee has been removed which was appointed after the resignation of Inzamam-ul-Haq as the Chief Selector.
The decision to relieve Tauseef Ahmed and Wajahatullah Wasti, the heads of the senior and junior selection committees respectively, has also been made.
It is yet to be determined who will select the side for the tour Down Under.