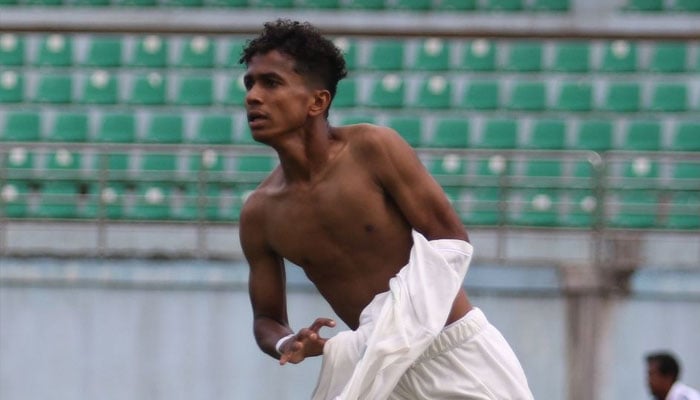 In a thrilling encounter against Maldives that ended in a 1-1 draw in Nepal, Pakistan secured their place in the South Asian Football Federation (SAFF) Under-19 Football Championship's semi-final on Saturday.
The Men in Green started on a high note but they struggled considerably in front of goal. The Green Shirts failed to convert their chances in the first half of the game. Capitalizing on the opponent's errors and mistakes, Maldives took a decisive lead in the 39th minute of the match courtesy of a brilliant outside-of-the-boot finish.
The first half ended 1-0 with Maldives leading and it looked like the game will remain and then end this way. Pakistan's attacks were consistently repelled by the strong Maldives defense but the Green Shirts finally had their moment late in the game with Shah Jahan finding the back of the net and then celebrating by taking his shirt off.
Pakistan, who won their first match against hosts Nepal, topped group B with four points in two games and now will play the tournament's semi-final on September 27.
Earlier, Pakistan shattered a 12-year-long victory drought by bagging a win in an international match as they beat Nepal 1-0 in the opening match of the tournament.
The last time Pakistan's U19 team tasted victory on the international stage was in 2011, when they defeated India's U19 team.
It must be noted that the tournament is being played at the iconic Dashrath Stadium in Kathmandu.
Remember, the 2023 SAFF U-19 Championship is the fifth edition of the SAFF U-19 Championship, an international football competition for men's under-19 national teams organised by the South Asian Football Federation (SAFF). It will be held from September 21-30
India are the defending champions, who won their second title in 2022 by defeating Bangladesh in the final.
Pakistan Squad
Goalkeepers: Sahil Gul, Mohsin Khan and Muhammad Abdullah
Defenders: Muhammad Sadam, Muhammad Adeel, Asad Nasir, Ans Amin, Khurshid Alam, Muhammad Raheel, Shayan Ali, Kamil Ahmad Khan, Abid Ali, Hannan Naveed and Najeeb Ullah
Midfielders: Ali Zafar, Muhammad Azan and Awais Khan
Forwards: Shahjahan, Muhammad Hassan, Faisal Ahmad, Abdul Wahab, Muhammad Haroon Zafar and Muhammad Adeel Younas
Team Officials: Shadab Ifthikhar (Head Coach), Mohsan Ul Hussnain (Assistant Coach), Khurram Shahzad (Goal Keeper Coach), Aamna (Media), Muhammad Abdullah and Muhammad Samama (Physio) and Zohair Gondal (Team Manager).