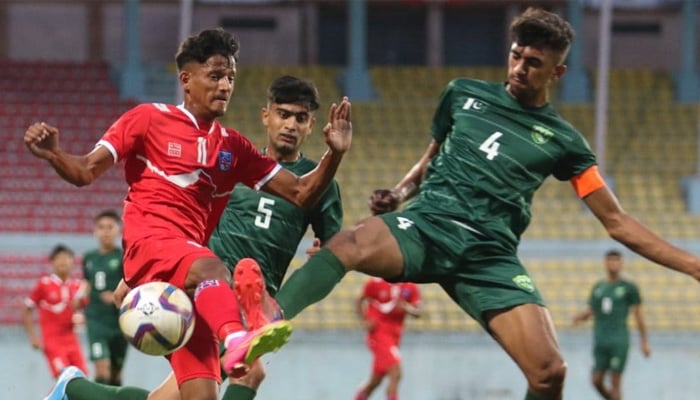 In an exhilarating display of skill and determination, Pakistan's Under-19 football team secured a triumphant victory over the host nation, Nepal, in the SAFF Under-19 Football Championship. The match saw Pakistan make a winning start, clinching the game with a final score of 1-0.
Pakistan have shattered a 12-year-long victory drought by bagging win in an international match. The last time Pakistan's U19 team tasted victory on the international stage was in 2011, when they defeated India's U19 team.
The lone and decisive goal of the match was beautifully netted by Ali Zafar in the 76th minute, sending waves of jubilation through the Pakistani contingent and their fervent supporters. This momentous goal ultimately proved to be the turning point, securing Pakistan's lead and sealing their triumph.
Notably, the Pakistani goalkeeper played a pivotal role in the victory by thwarting several relentless attacks from the Nepalese side, showcasing exceptional skill and resilience under pressure.
It must be noted that the tournament is being played at the iconic Dashrath Stadium in Kathmandu. Pakistan will now face off against Maldives on September 23 at the same venue.
Remember, the 2023 SAFF U-19 Championship is the fifth edition of the SAFF U-19 Championship, an international football competition for men's under-19 national teams organised by the South Asian Football Federation (SAFF). It will be held from September 21-30
India are the defending champions, who won their second title in 2022 by defeating Bangladesh in the final.
Pakistan Squad
Goalkeepers: Sahil Gul, Mohsin Khan and Muhammad Abdullah
Defenders: Muhammad Sadam, Muhammad Adeel, Asad Nasir, Ans Amin, Khurshid Alam, Muhammad Raheel, Shayan Ali, Kamil Ahmad Khan, Abid Ali, Hannan Naveed and Najeeb Ullah
Midfielders: Ali Zafar, Muhammad Azan and Awais Khan
Forwards: Shahjahan, Muhammad Hassan, Faisal Ahmad, Abdul Wahab, Muhammad Haroon Zafar and Muhammad Adeel Younas
Team Officials: Shadab Ifthikhar (Head Coach), Mohsan Ul Hussnain (Assistant Coach), Khurram Shahzad (Goal Keeper Coach), Aamna (Media), Muhammad Abdullah and Muhammad Samama (Physio) and Zohair Gondal (Team Manager).
The green shirts will kick off their campaign against Nepal on September 21 at the iconic Dashrath Stadium in Kathmandu and square off against Maldives on September 23 at the same venue.