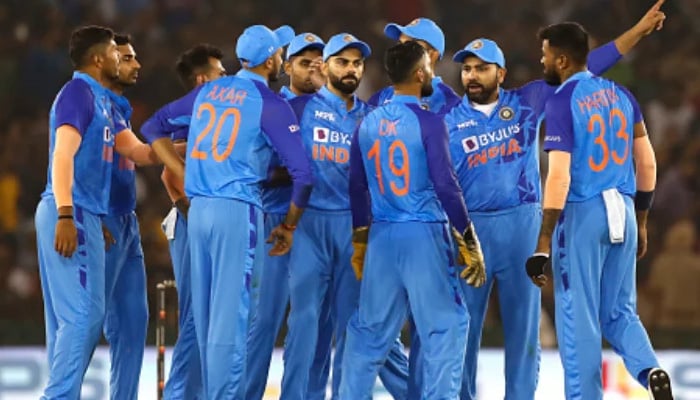 Asia Cup 2022, hosted by Pakistan Cricket Board (PCB) is just around the corner and the Asian fans are gearing up for the mega continental rivalry. 
A debate sparked after some X users shared pictures of Indian players donning Asia Cup jerseys having Pakistan's name on them. 
This is not something happening for the first time in cricket history. In every multi-nation event, teams have the tournament host's name written on their jerseys. 
Pakistani players will also have hosts India written on their jerseys during the upcoming World Cup later this year. 
The PCB is going to host the Asia Cup for the first time after 2008. The event will be played in Pakistan and Sri Lanka after India refused to travel to neighbours due to political differences. The Indian team will play all of their matches in Sri Lanka during the Asian event. 
The tournament is set to start on August 30 with hosts Pakistan taking on Nepal in Multan. Lahore will host three Asia Cup matches. The remaining nine matches including the final will be played in Kandy and Colombo. 
Complete schedule of Asia Cup
Group Stage
Aug 30 - Pakistan vs Nepal in Multan at 2:30 pm (PST)
Aug 31 - Bangladesh vs Sri Lanka in Kandy at 2:30 pm (PST)
Sept 2 - Pakistan vs India in Kandy at 2:30 pm (PST)
Sept 3 - Bangladesh vs Afghanistan in Lahore at 2:30 pm (PST)
Sept 4 - India vs Nepal in Kandy at 2:30 pm (PST)
Sept 5 - Afghanistan vs Sri Lanka in Lahore at 2:30 pm (PST)
Super 4s
Sept 6 - A1 vs B2 in Lahore at 2:30 pm (PST)
Sept 9 - B1 vs B2 in Colombo at 2:30 pm (PST)
Sept 10 - A1 vs A2 in Colombo at 2:30 pm (PST)
Sept 12 - A2 vs B1 in Colombo at 2:30 pm (PST)
Sept 14 - A1 vs B1 in Colombo at 2:30 pm (PST)
Sept 15 - A2 vs B2 in Colombo at 2:30 pm (PST)
Sept 17 - Final in Colombo at 2:30 pm (PST)
*Positions irrespective of teams' positions after first round
- Pakistan will remain A1
- India will remain A 2
- If either of them (India and Pakistan) don't qualify for Super 4s then Nepal will take their position
- Sri Lanka will remain B1
- Bangladesh will remain B2
- If either of them (Sri Lanka and Bangladesh) don't qualify for Super 4s then Afghanistan will take their position