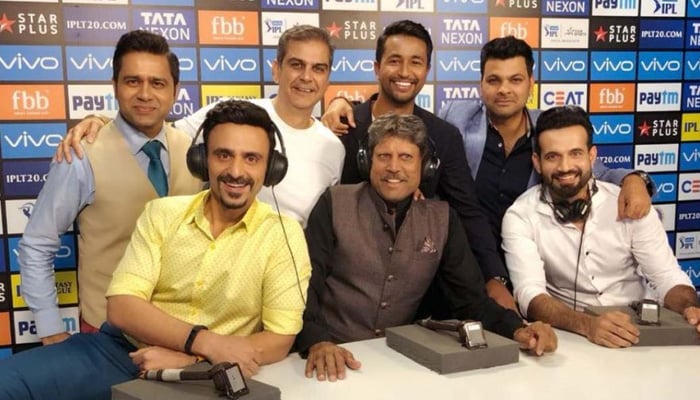 Asia Cup 2023, which will be played in 50-over format after five years, will be played from August 30 to September 17 in Pakistan and Sri Lanka.
The Indian broadcasting company, which announced the commentary panel on Friday, has also mentioned Hindi commentators among the elite names of the game.
Following several questions from fans regarding Hindi commentary, which is very much popular in the Asian region, the broadcasting company named the commentators who will call the game in Hindi during the Asian event.
Gautam Gambhir, Harbhajan Singh, Irfan Pathan, Sanjay Bangar, Mohammad Kaif, Aditya Tare, Rajat Bhatia, Raman Bhanot, Jatin Sapru & Padamjeet Sehrawat (all Indians) will do Hindi commentary during the event.
Whereas, Pakistan's Bazid Khan, Aamer Sohail, Wasim Akram and Waqar Younis, India's Ravi Shastri and Piyush Chawla, Zimbabwe's Andy Flower, Australia's Matthew Hayden, Sri Lanka's Marvan Atapattu and England's Dominic Cork will call the game in English.
A big name in Pakistan cricket, Ramiz Raja, who also remained the Pakistan Cricket Board (PCB) chairman recently, is missing from the commentary panel.
Raja returned as commentator during the Test series between Pakistan and Sri Lanka last month. The former opener was away from the commentary box since September 2021, when he was elected as the PCB chairman for a period of three years.
Complete schedule of Asia Cup
Group Stage
Aug 30 - Pakistan vs Nepal in Multan at 2:30 pm (PST)
Aug 31 - Bangladesh vs Sri Lanka in Kandy at 2:30 pm (PST)
Sept 2 - Pakistan vs India in Kandy at 2:30 pm (PST)
Sept 3 - Bangladesh vs Afghanistan in Lahore at 2:30 pm (PST)
Sept 4 - India vs Nepal in Kandy at 2:30 pm (PST)
Sept 5 - Afghanistan vs Sri Lanka in Lahore at 2:30 pm (PST)
Super 4s
Sept 6 - A1 vs B2 in Lahore at 2:30 pm (PST)
Sept 9 - B1 vs B2 in Colombo at 2:30 pm (PST)
Sept 10 - A1 vs A2 in Colombo at 2:30 pm (PST)
Sept 12 - A2 vs B1 in Colombo at 2:30 pm (PST)
Sept 14 - A1 vs B1 in Colombo at 2:30 pm (PST)
Sept 15 - A2 vs B2 in Colombo at 2:30 pm (PST)
Sept 17 - Final in Colombo at 2:30 pm (PST)
*Positions irrespective of teams' positions after first round
- Pakistan will remain A1
- India will remain A 2
- If either of them (India and Pakistan) don't qualify for Super 4s then Nepal will take their position
- Sri Lanka will remain B1
- Bangladesh will remain B2
- If either of them (Sri Lanka and Bangladesh) don't qualify for Super 4s then Afghanistan will take their position