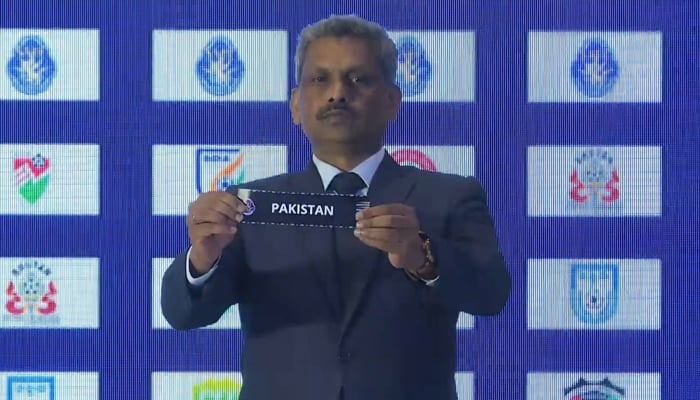 Arch-rivals Pakistan and India have been drawn in the same group of the South Asian Football Federation (SAFF) Championship 2023, set to be played in Bangalore, India next month. 
Pakistan and India have been drawn into the Group A of the tournament alongside Kuwait and Nepal. 

Meanwhile, Group B consists of Maldives, Bhutan, Bangladesh and Lebanon. 
Sri Lanka will be missing out on the tournament due to the FIFA ban.
However, Pakistan's participation in the event is subject to government approval due to security concerns in India. 
According to sources, Pakistan Football Federation (PFF) has already written a letter to the government, seeking their permission for participating in the tournament. 
Meanwhile, PFF is preparing to attend the event and they are hoping to get the government's approval.
It is the regional federation's responsibility to get the team visas to India, sources said.
In the SAFF Championship, Pakistan will meet India for the first time in five years. The two teams last played each other in the 2018 SAFF Championship semi-finals, where India won 3-1.
Pakistan is re-joining the SAFF fold after missing out on two of the 13 tournaments that have been played since 1993. Due to internal problems, the PFF was unable to send their team to the 2015 tournament in India. Due to their FIFA suspension, the nation missed the 2021 edition. Last year, the ban was removed.
India won the tournament eight times, which is the most. They are also the defending champions after a 3-0 against Nepal to win their eighth championship in 2021.