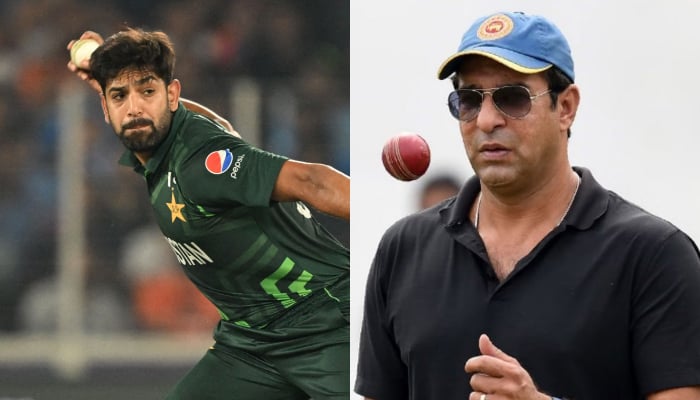 Former Pakistani pacer and the Swing of Sultan, Wasim Akram opened up on Haris Rauf's performance following India's seven-wicket win in the 12th match of the ongoing ICC World Cup 2023 at the Narendra Modi Stadium, Ahmedabad, on Saturday.
The Green Shirts lost for the eighth time in the history of the World Cup against India and the subpar performances of many key players have now become a matter of concern among fans, as well as ex and current cricketers.
Talking about Rauf, Wasim Akram identified the 29-year-old's weakness saying that only pace will not give you wickets.
"Maybe once or twice but top batters will not give you wickets on these pitches if you are using only pace. You have to fox them out, you have to create pressure by playing dot balls when the field is wide open," Akram said while talking in a local sports show.
"The problem with Haris is that he takes wickets, no doubt, but gives away too many runs because he doesn't have a consistent length. If you look at Jasprit Bumrah's pitch map, his length is consistent and almost every ball is between the stumps."
The 57-year-old then went to talk about another Pakistani pacer, Shaheen Afridi, who has not been performing up to the mark but Akram believed that other bowlers should step up.
"I think Shaheen has been unlucky. He is not going to take wickets in every match, other bowlers should take wickets too I suppose. He has been bowling well for Pakistan. He suffered multiple injuries, first knee, then a finger injury, and before that he had an elbow injury, it takes time for a bowler to be at his best after coming from an injury. He bowled well [against India] but his line wasn't good," he added.
Earlier, Rohit Sharma powered his side to a crucial win that saw them going all the way to the top of the ICC World Cup points table with a staggering 1.82 run rate.
The Hitman, who scored 140 against Pakistan in the 2019 World Cup, showcased his batting skills once again and top-scored for the winning side with 86 off 63 balls. His rapid knock included 12 boundaries.
Batting first, the Green Shirts were restricted to 191 in 42.5 overs courtesy of a collapse that saw them lose eight wickets for just 36 runs in 12.5 overs.