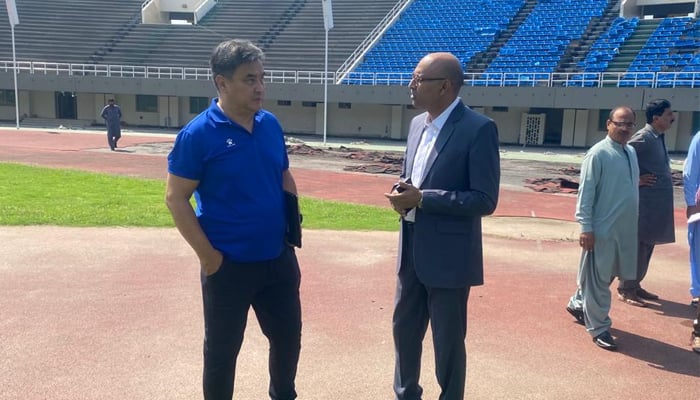 The Pakistan Football Federation (PFF) finds themselves in a concerning position after questions have arisen regarding the hosting of Pakistan's home match in the FIFA World Cup 2026 Qualifier against Cambodia, scheduled for October 17
The Asian Football Confederation (AFC) match commissioner, Kemel Tokabaev, recently visited both Islamabad and Lahore stadiums and expressed dissatisfaction with the venues.
As per sources, Lahore's Punjab Stadium was declared unsuitable for hosting the FIFA World Cup Qualifier match. It reportedly lacked even the basic criteria required by FIFA and AFC.
While the Jinnah Stadium in Islamabad was considered as a potential venue, the AFC had raised concerns and requested corrections to be made before it could be considered suitable for the match.
The Pakistan Sports Board (PCB) has been asked to prepare the Islamabad stadium to meet the necessary standards by October 10, adding pressure to ensure the venue is ready in time for the scheduled match.
PFF now finds itself in a precarious position due to the ongoing stadium conditions. The uncertainty over hosting the home match in Pakistan has raised concerns about the national team's preparations for the crucial World Cup Qualifier.
Remember, AFC's Match Commissioner Kemel Tokabaev visited the Jinnah Stadium, Islamabad on Wednesday.
The member of the Pakistan Football Federation (PFF) Normalisation Committee Mohammad Shahid Niyaz accompanied Tokabaev along with some officials from the Pakistan Sports Board (PSB).
Tokabaev, who is from Kyrgyzstan, inspected the stadium thoroughly to see if it meets FIFA's requirements to host an international match.
The commissioner also watched the ongoing renovation work at the stadium.
Pakistan is scheduled to play its home game against Cambodia on October 17 after playing an away contest against them on October 12.
Jinnah Stadium last hosted a major event in 2014 which was the SAFF Women's Championship.
It must be noted that if Islamabad's Jinnah Stadium is approved by the AFC to host the game, then it will be Pakistan's first international assignment at home since 2015 when Pakistan played a friendly against Afghanistan in Lahore.
This will also be Pakistan's first FIFA qualifier game at its own home ground since 2011. The game against Yemen in 2015 was moved to Bahrain after a bomb blast in Lahore while the 2019 game against Cambodia was moved to Qatar due to PFF political chaos.
Pakistan had last played a FIFA World Cup qualifier at home in 2011 against Bangladesh.
Faizan Lakhani is Deputy Editor (Sports) at Geo News.