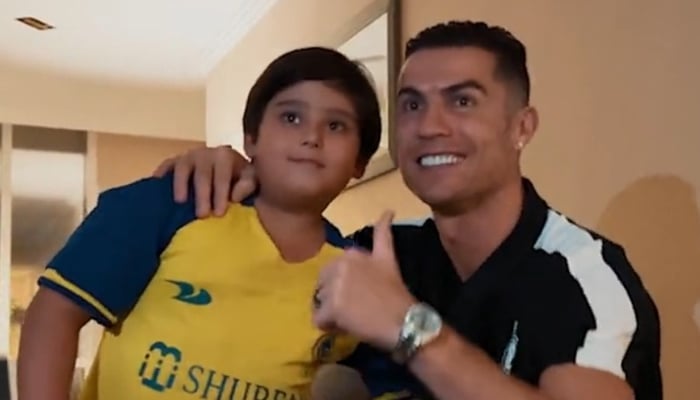 Cristiano Ronaldo landed in Iran on Monday (September 18) to prepare for the AFC Champions League clash against Iranian club Persepolis FC, which will be played at the Azadi Stadium on Tuesday.
As soon as the 38-year-old landed in Tehran, the streets of the city were filled with thousands of supporters gathering to see a glimpse of their favourite footballer.
Fans in large numbers followed Al-Nassr from the airport to the hotel where they were also seen doing Ronaldo's trademark celebration "Siiuuu" as they surrounded the bus.
The police increased the security of the hotel where the team was staying because the fans were gathering around it and were seen climbing a mountain near the hotel to see Ronaldo.
Amidst all this, a video of a young Al-Nassr supporter crying, as he was stopped by the police from meeting the Portuguese, emerged.
Ronaldo, who is known to have an amazing personality off the field, invited the kid to the Al-Nassr's team room and fulfilled the kid's dream by giving him a signed jersey.
WATCH
For the young population of Iran who grew up fighting with constant economic challenges and international sanctions, the arrival of one of the greatest players of all time is no less than a blessing as it has become a source of happiness and excitement.
Ronaldo, 38, is one of the most popular personalities in the world. He is the individual with the most followers (605 million) on Instagram.
Ronaldo's move to Al-Nassr in January 2023 on a big-money contract opened the way to hundreds of footballers as we saw some of the biggest names like Karim Benzema, Neymar, Riyad Mahrez, Sadio Mane and others making their way to the Gulf country.
Al-Nassr is in Group E with Persepolis FC, Al Duhail SC and Tajikistan's FC Istiklol.
It must be noted that Persepolis FC is the most successful Iranian club and have a massive fan following.
However, Tuesday's match will take place behind closed doors due to a ban imposed by the Asian Football Confederation (AFC) over some license regulations.
AFC Champions League is the highest tier of Asian club competitions where top teams from all over Asia play each other.