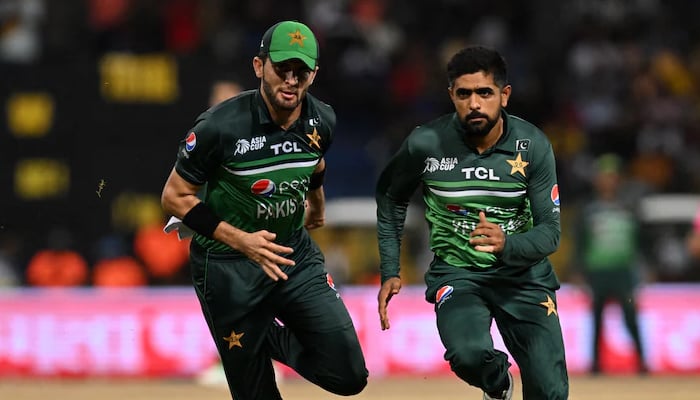 KARACHI: In a significant development in Pakistan cricket, fast bowler Shaheen Shah Afridi will likely be appointed as the vice-captain of the ODI and T20I teams, replacing Shadab Khan. This decision comes amidst Shadab Khan's recent struggle with form, which has raised concerns.
Leg-spinner Shadab Khan has faced a downturn in his performance, with statistics indicating that he took six wickets at an average of 40.83 in five matches during the Asia Cup 2023. His inclusion in the playing eleven has drawn criticism, particularly from fans and experts. Captain Babar Azam has been under scrutiny for persistently selecting Shadab Khan in the team.
Daily Jang reports that left-arm pacer Shaheen Shah Afridi is the frontrunner to assume the role of vice-captain, replacing Shadab Khan. Afridi boasts an impressive international record, having played 27 Tests, 44 ODIs, and 52 T20Is while taking 255 wickets in international cricket.
Shaheen Shah Afridi's leadership qualities have been on display in the Pakistan Super League (PSL), where he led the Lahore Qalandars franchise to consecutive titles in 2022 and 2023.
With the ICC Cricket World Cup scheduled to commence on October 5 in India, the national team faces challenges on multiple fronts. Captain Babar Azam has been facing severe criticism, particularly following questions about his captaincy during crucial matches against India and Sri Lanka in the Asia Cup.
The Pakistan Cricket Board (PCB) is also concerned about the team's performance and Babar Azam's leadership. Chaudhry Zaka Ashraf, the Chairman of the PCB Management Committee, has been closely involved in addressing the issues arising from the Asia Cup defeat and other matters within the board. Despite the discussions surrounding Babar Azam's captaincy, Chaudhry Zaka Ashraf is reportedly inclined to retain him as the captain for the upcoming World Cup.
While the final decision to retain or replace the captain rests with the chairman, it appears that Babar Azam is likely to continue leading the team into the ICC Cricket World Cup.