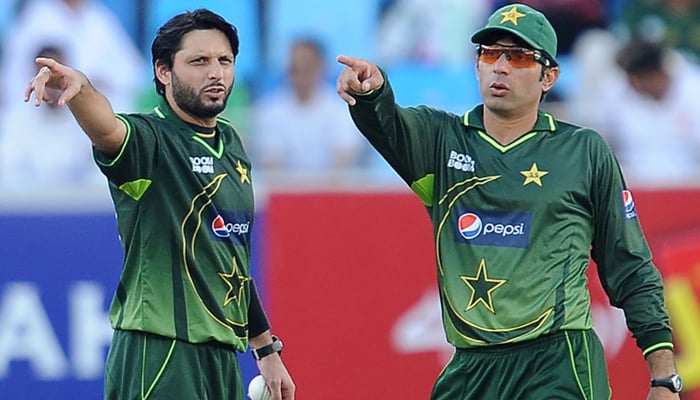 KARACHI: Pakistan on Tuesday named a number of former Test stars including Shahid Afridi, Misbah-ul-Haq and Abdul Razzaq in their team for the inaugural MCW Over 40s Cricket Global Cup which will explode into action here later this month.
Fawad Ijaz Khan, Chairman of the Pakistan Veterans Cricket Association (PVCA), told The News on Tuesday that as hosts, Pakistan have decided to field a strong and star-studded team in the eight-nation contest to be played in Karachi from September 19 to October 2.
Apart from the trio of Afridi, Misbah and Razzaq, the Pakistan team will also have the services of two other former Tests cricketers — pacer Mohammad Sami and batter Hasan Raza.
Former Teat cricketer Ejaz Faquih, Chairman of Selection Committee of PVCA, announced the 18-member playing squad with three reserves, a coach and a manager. The captain and vice-captain will be announced latest by 16th September 2023.
Pakistan will begin their title campaign with an opening match against United States (USA) at the National Stadium on September 19. Other competing teams in the tournament are Australia, West Indies, Nepal, Hong Kong, Canada and the UAE.
A total of 36 matches will be played at five different grounds of Karachi. Pakistan team will play all its matches at National Bank Stadium and these matches including one semi-final and final match will be live telecast on Geo Super.
A media briefing of the tournament will be held at 12:30 noon on September 18 and the opening ceremony of the tournament will be held at Governor House Karachi on the same evening.
The four matches of the opening Round will be played on 19th September. All matches of the tournament will be 45 overs per innings. The final will be played on 2nd October, 2023.
Pakistan squad
Shahid Afridi, Abdul Razzaq, Misbah ul Haq, Muhammad Sami, Hassan Raza, Tariq Haroon, Khurram Ali Khan (wk), Waqas Ahmed, Abdul Qadir, Muhammad Rizwan Aslam, Kashif Sidqque, Muhammad Ilyas, Afzal Shah (w.k), Amjad Ali, Imran Ali, Tassawar Abbas, Adnan Raees, Junaid Khalil Nainitalwala.
Reserves: Yasir Hameed, Haris Ayaz, Shehzad Malik.
Coach: Jalal-ud-din
Manager: Azam Khan