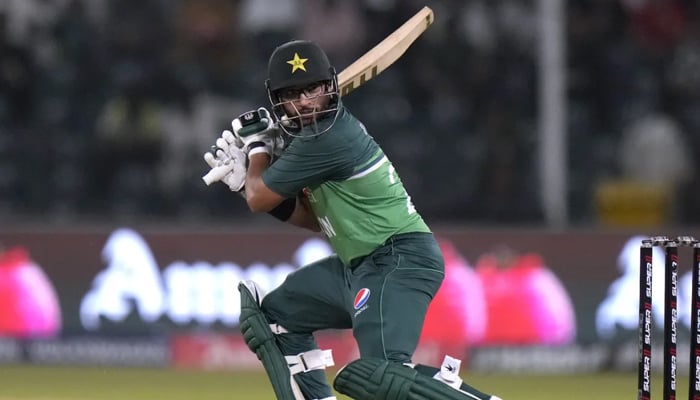 COLOMBO: Pakistan opener Imam-ul-Haq has warned against "evil eye" affecting Pakistan's star-studded fast bowling attack, comprising Shaheen Afridi, Naseem Shah and Haris Rauf.
Imam shared these thoughts ahead of the Asia Cup 2023 match against India in Colombo.
"We should talk less about Pakistan's fast bowlers. I'm scared they might get affected by evil eye," Imam told Geo News in an exclusive interview on Sunday.
"I tell our bowlers that if they continue like this for the next two months, our lives can be changed.
"We are lucky that we only face our bowlers in the nets at a time when every other teams make plans to counter them.
He also opened up about the highly-anticipated clash against India later today.
"Fans closely follow Pakistan-India matches. This match is slightly different as compared to other matches," he said.
"Players enjoy these matches as it gives them an opportunity to become a star. People remember you for a long time if you do well in this match or help your team win.
"It is good for us that we are playing a team like India twice before the World Cup. We will be able to identify India's strengths and weaknesses in bowling through these matches."
It must be noted that the remaining matches of Asia Cup 2023 Super 4 round will be played in Colombo, Sri Lanka, however heavy rains are expected to play spoilsport during the upcoming encounters.
The match between India and Pakistan on Sunday is also likely to be affected by rain.
According to The Weather Channel, thunderstorms are expected daily in Colombo till September 17.
The trophy will be shared if the final of the Asia Cup 2023 is also washed out on September 17.
Remaining Asia Cup 2023 Super 4 matches
Sept 10 - Pakistan vs India in Colombo at 2:30 pm (PST)
Sept 12 - India vs Sri Lanka in Colombo at 2:30 pm (PST)
Sept 14 - Pakistan vs Sri Lanka in Colombo at 2:30 pm (PST)
Sept 15 - India vs Bangladesh in Colombo at 2:30 pm (PST)
Asia Cup 2023 Final
Sept 17 - Final in Colombo at 2:30 pm (PST)
Sohail Imran is a senior reporter for Geo News.