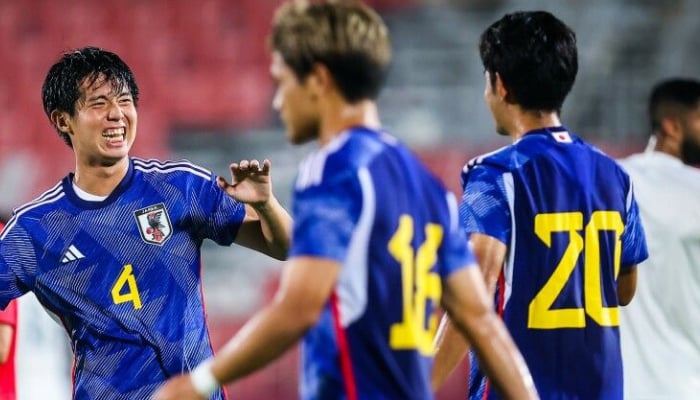 KARACHI: Japan thrashed Pakistan 6-0 in Group D's first match in the AFC U-23 Asian Cup 2024 qualifiers at the Shaikh Ali bin Mohammed Al Khalifa Stadium at Muharraq Club in Arad town in Bahrain on Wednesday.
It was a disappointing display from Pakistan, who were outclassed in all departments of the game and were pinned inside their own half for the majority of the game.
Japan, the 2016 champions, scored their opening goal in the 11th minute when Ryuya Nishio put the ball in the net after a corner kick.
Towards the end of the first half, Japan scored twice in a space of four minutes through Shunsuke Mito (43rd) and Mao Hosoya (45th+2).
Japan stayed on top in the second half and increased their lead from the penalty spot, first from Hosoya (51st) then captain Joel Chima Fujita in the 59th minute.
Mito scored his second of the game when he struck in the 64th minute.
Pakistan will take on Bahrain and Palestine on September 9 and 12, respectively.
Pakistan squad
Goalkeepers: Salman ul Haq, Hassan Ali and Usman Ali
Defenders: Mohammad Sohail, Mohib Ullah, Haseeb Ahmed Khan, Mohammad Sufyan, Syed Abdullah Shah, Mamoon Moosa Khan, Saeed Khan and Abdullah Iqbal
Midfielders: Mohammad Hayan Khattak, Mohammad Taha, Zaid Umar, Nizam Uddin, Alamgir Ghazi and Harun Hamid
Forwards: Shayak Dost, Moin Ahmed, Mohammad Waheed, Mohammad Waleed, Hamza Ahmed and Fareed Ullah
Officials
Shahzad Anwar (head coach), Walid Javaid (Assistant Coach), Chaudary Nouman Ibrahim (goalkeeping coach), Muhammad Shoaib (media), Zubair Abdullah (physio), Muhammad Azam (doctor), Abdul Qayyum (masseur), Osama Ahmad (team manager).