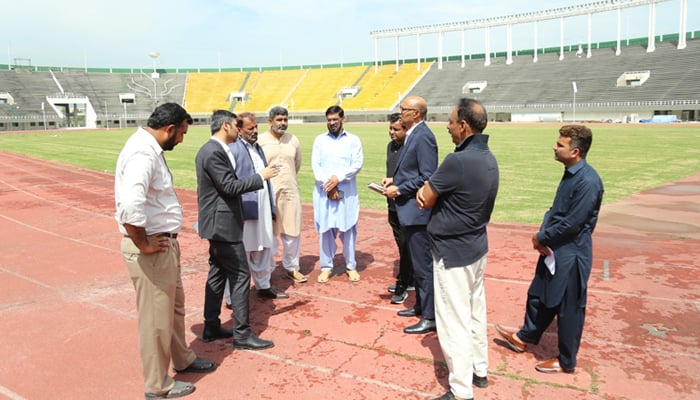 KARACHI: The Pakistan Football Federation (PFF) has expressed satisfaction on status of Islamabad's Jinnah Stadium to host Pakistan's home leg of FIFA World Cup 2026 Qualifier against Cambodia.
A two-member delegation of PFF visited the facility in the Pakistan Sports Complex on Thursday.
Shahid Khokhar – Member PFF Normalisation committee – and Shahzad Anwar – head coach Pakistan men's national team – were briefed by officials of PSB during the visit.
Khokhar confirmed to Geo that they were satisfied with the facilities, though he added a final decision on hosting the game in Islamabad would be made after approval from AFC and FIFA over the venue.
"As far as we are concerned, we were satisfied with what we observed during our visit, there were couple of things which we brought into notice of PSB officials and they warmly extended their full support to host this match in Pakistan," he said.
Pakistan is drawn to play FIFA World Cup qualifier against Cambodia on 12th and 17th October. The match on 17th is Pakistan's home game and PFF was told by AFC to finalise the stadium by 18th August.
PFF had approached Punjab Sports Board, Pakistan Sports Board and Saudi Arabia football authorities to host these games. The PSB had expressed its willingness to provide Islamabad's Jinnah stadium for the game and invited the PFF to visit the venue. 

"The pitch has to be ready for game which I believe will be done and the scoreboard is needed to be in the stadium. We have mentioned FIFA regulations to PSB and they're ready to meet them," he said.
According to Khokhar the PFF will now write to AFC and FIFA to send their technical team to visit the stadium and only on their approval the PFF will finalise the stadium to host Pakistan's game.
"We would like to get it done as soon as possible. We are determined to host our game in Islamabad," Kokhkar added while appreciating the "warm support" he received from Pakistan Sports Board during the visit.