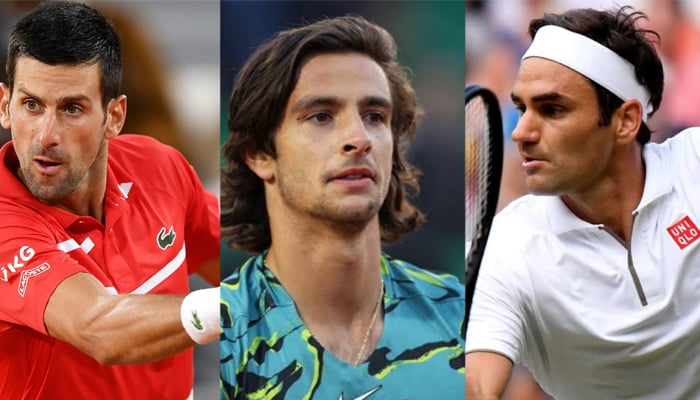 The Italian tennis star Lorenzo Musetti could not refrain from admitting the fact that he is a massive Roger Federer fan, but he acknowledges that Novak Djokovic will end up winning more titles than the Swiss.

The debate for the greatest tennis player of all time (GOAT) has been around for a long since the big three Federer, Djokovic and Rafael Nadal have taken the tennis world by storm since their debut.
Despite being third in terms of Slams won, there are many who still believe Federer to be the greatest and world no. 18 was asked by Spain's Marca for his views on the GOAT and replied: "My favourite has always been Federer for his elegance.
"If the question is about who will end up winning the most, I would say Djokovic. He is in good shape and I think he will win a few more Grand Slam titles," he added.
Musetti also talked about the current world no. 1 Carlos Alcaraz whom he defeated in their only previous match in the Hamburg final last year, but the Italian speaks highly of the 20-year-old.
"He is a unique player because of his talent. What he has achieved in the last two seasons is admirable and I am happy for him," he said.
"I can say that I beat him in Hamburg in one of my best matches. Hopefully, we can meet many more times. I wish Carlos the best because he is a friend both on and off the track. He is a worker and he deserves to be where he is."
The Italian also talked about the unique qualities of him and Alcaraz and what sets the two stars apart.
"I believe that what sets us apart is its consistency, the regularity of its results," the Italian added. "That is what, without a doubt, I lack and I work on it. Alcaraz wins many times without playing 100 percent, which is why his percentage of games won is high. It is the big difference between his ranking and mine."