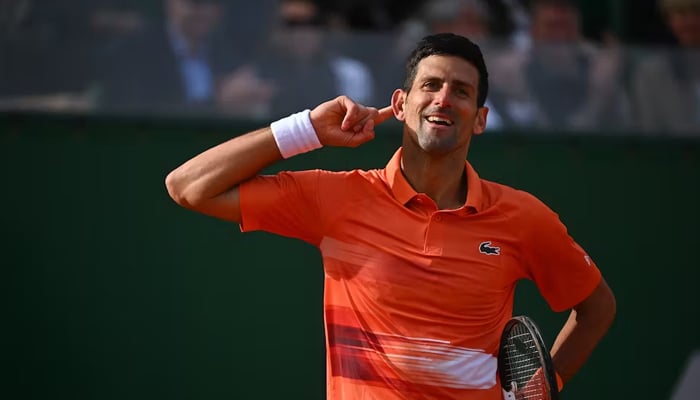 Serbian Tennis star Novak Djokovic once again became the talk of the town as he wrote a "political" message after winning the first-round match at French Open against Aleksandar Kovacevic.
Djokovic wrote "Kosovo is the heart of Serbia. Stop the violence" on a camera lens after which he was criticised by the Sports minister of France.
Speaking to reporters in Serbian, Djokovic said that he thought what he wrote on the TV camera was "the least I could do. I feel responsibility as a public figure ... as well as a son of a man who was born in Kosovo."
Speaking on TV station France 2, French Sports minister Amelie Oudea-Castera said French Open director Amelie Mauresmo spoke with Djokovic and his entourage to insist on the principle of "neutrality" on the field of play.
"When it comes to defending human rights and bringing people together around universal values, a sportsperson is free to do so," she said. But Oudea-Castera added that Djokovic's message was "militant, very political" and "must not be repeated."
Djokovic also drew criticism from the Kosovo tennis federation after offering his thoughts on clashes in northern Kosovo between ethnic Serbs and police and NATO peacekeepers.
Kosovo's tennis federation said Tuesday that Djokovic's comments were "deplorable" because he was stoking tensions between Serbia and Kosovo.
However, the International Tennis Federation have not yet opened a case against the 22-time Grand Slam winner.
"We received a letter from Kosovo which we have answered," said ITF president David Haggerty. "But essentially we have forwarded their letter to the French federation, to the French Open, it's their tournament, and to the ATP who have the rules — the two of them together have the rules and regulations for the event."
Haggerty added that "athletes have to be careful on their political views. Sports and politics is what we have been talking about and we really want to keep them separate."
It must be noted that Kosovo declared its independence from Serbia on 17 February 2008, and has since gained diplomatic recognition as a sovereign state by 101 member states of the United Nations.