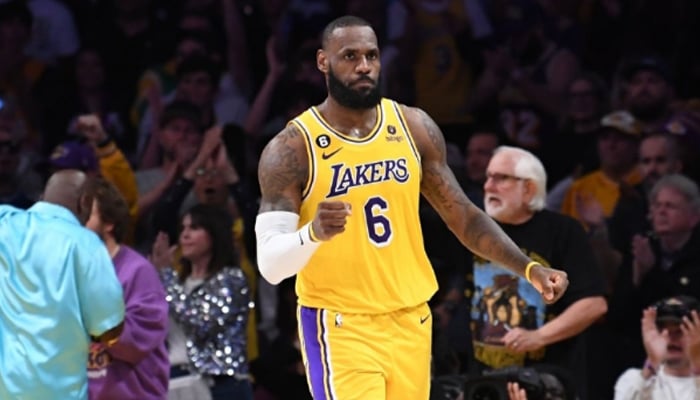 LeBron James broke Derek Fisher's record for most playoff series win by a player in NBA history on Friday.
The Los Angeles Lakers star notched up 41st win of his NBA career after his side defeated Golden State Warriors 122-101.
Most Playoff series win in career:
41 — LeBron James
40 — Derek Fisher
39 — Robert Horry
37 — K. Abdul-Jabbar
35 — Tim Duncan
33 — Kobe Bryant
33 — Scottie Pippen
James led the way with a 30-point performance as the Lakers clinched the semi-final series four games to two and booked a clash with Denver Nuggets for a place in the NBA Finals.
"It's going to be a great series," James told broadcaster ESPN. "They've been the number one seed in the West all season long. We give them a lot of respect."
That series tips off on Tuesday. A day later, the Miami Heat will open in the Eastern Conference finals against either the Philadelphia 76ers or the Boston Celtics.
The Heat advanced Friday with a hard-fought 96-92 victory over the New York Knicks to win their Eastern Conference semi-final four games to two.
The Celtics will host Philadelphia in a decisive game seven on Sunday.
In Los Angeles, the Lakers led wire-to-wire, with James adding nine rebounds and nine assists as the Lakers closed out the Warriors in their second attempt after dropping game five in San Francisco.
"Not many (members) of our team have been in close-out games," James said. "So after game five up in the Bay, I knew I had to come in with a lot of aggression but be very efficient and very strategic in how I played this game."
Anthony Davis scored 17 points and pulled down 20 rebounds for Los Angeles and Austin Reaves scored 23 points -- including a half-court shot at the halftime buzzer that put the Lakers up 56-46 at the break.
Since clawing their way into the play-in tournament, the Lakers have won seven straight home games.
Their victory marked the first time that the current Warriors dynasty led by Stephen Curry and coached by Steve Kerr has lost a Western Conference playoff series.
The Warriors had reached the NBA Finals in six of the last eight seasons, winning four titles, missing the post-season in 2020 and 2021.
Curry scored 32 points but made just four of his 10 three-point shots.
Sharpshooter Klay Thompson made just two of his twelve three-point attempts.
"(We) just tried to make it tough on them," Davis said of the Lakers' defensive strategy against the prolific Warriors offense. "They're the defending champion, they're not going to go away. Their ability to score the ball, shoot the ball is unreal, unmatched.
"We just wanted to keep the pressure up, the intensity up, and be the hardest-playing team for 48 minutes."
— Additional input from AFP