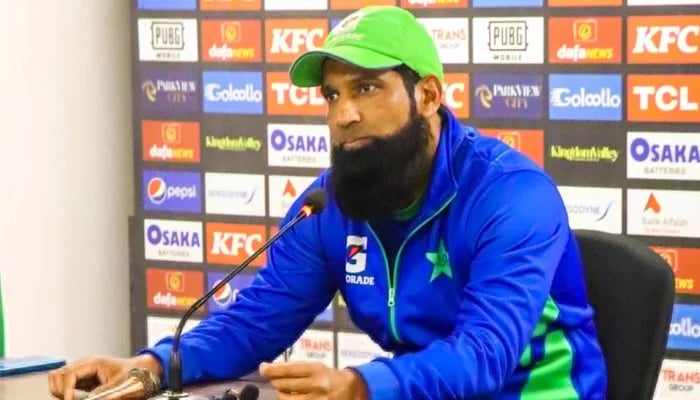 LAHORE: Pakistan batting coach Mohammad Yousuf won't travel to United Arab Emirates (UAE) with the national team for the three-match T20I series against Afghanistan.
According to sources, Yousuf is not available due to personal reasons.
Yousuf's appointment was determined on a series-to-series basis under the Ramiz Raja-led administration. His permanent role is the batting coach of the National High Performance Centre (NHPC) in Lahore.
It must be noted that the Pakistan cricket team will leave for Dubai, from Lahore, later today.
The schedule of the series between Pakistan and Afghanistan was revised earlier this month.
Previously, the matches were set to be played on March 25, 27 and 29 at Sharjah Cricket Stadium. However, they will now take place on March 24, 26 and 27.
"Afghanistan Cricket Board and Pakistan Cricket Board have jointly agreed to make slight tweaks to the itinerary of Afghanistan's home three-match T2OI series against Pakistan. The start of the series is brought forward by a day and will now start on March 24, with the last two games to be played on March 26 and 27 in Sharjah, UAE," ACB said in a statement.
"The changes in itinerary are made due to the unavailability of the Hawk-Eye Technology for the previously agreed upon dates. The two boards have agreed upon the changes in itinerary to ensure all the necessary broadcast technologies are available for the inaugural T20I series between the two sides," it added.
Earlier, both teams were supposed to play a three-match ODI series this year, instead of T20Is, but, since Pakistan and Afghanistan have already qualified for the 2023 ODI World Cup in India, the format was changed after meeting between Sethi and ACB officials.
"I met with the executive members of Afghanistan Cricket Board and they were asking us to play a (ODI) series but we didn't find any attraction playing the series," Sethi said at a press conference in January.
"It's mainly because the series was meant for the [Super League] points, and now no matter who wins it won't make a difference. So we agreed to play a series of three T20Is in Sharjah just after the PSL subject to government approval. We will share 50% of the revenue from the series equally. And we will jointly outsource the production," he added.
Schedule:
March 24: 1st T20I, Sharjah
March 26: 2nd T20I, Sharjah
March 27: 3rd T20I, Sharjah