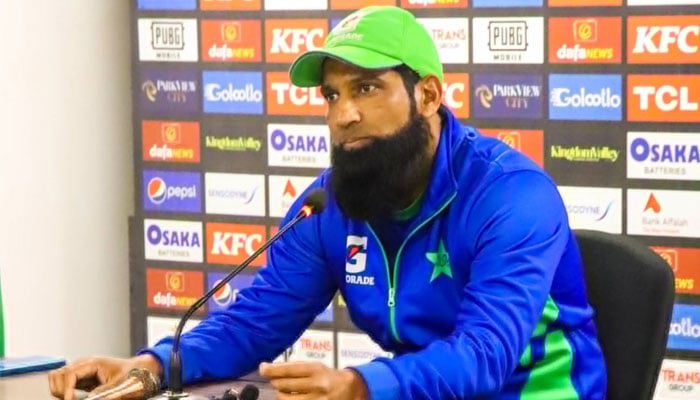 Former Pakistan cricketer Muhammad Yousuf is set to be named as the interim head coach of the national men's team for the upcoming T20I series against Afghanistan, according to sources.
The decision is likely to be taken because the Pakistan Cricket Board (PCB) was not able to finalise the agreement for role of head coach with Mickey Arthur.
The Pakistan Cricket Board had earlier confirmed that it has been in talks with former national team head coach Arthur with a view to appointing him as the head coach to guide the side through to the ACC Asia Cup, ICC Men's Cricket World Cup 2023, ICC Men's T20 World Cup 2024 and the ICC Champions Trophy 2025.
However, owing to Arthur's long-term contract with Derbyshire, PCB have also discussed a proposal to act as a consultant to the team on a time-sharing basis with Derbyshire. 
It must be noted that the New Zealand series was the last assignment for head coach Saqlain Mushtaq and bowling coach Shaun Tait, since their contract expired in February, 2023.
Earlier, Yousuf's appointment, who was previously serving as the batting coach of the team, was determined on a series-to-series basis under the Ramiz Raja-led administration. His permanent role is the batting coach of the National High Performance Centre (NHPC) in Lahore.
Yesterday, the Afghanistan Cricket Board (ACB) had announced the schedule of three T20Is against Pakistan.
Taking to Twitter, ACB announced that the two neighbouring countries will meet in three-match T20I series on March 25, 27 ,and 29 at the Sharjah Cricket Stadium. 
Both teams were supposed to play a three-match ODI series this year, instead of T20Is, but, since Pakistan and Afghanistan have already qualified for the 2023 ODI World Cup in India, the format was changed after meeting between Sethi and ACB officials.
"I met with the executive members of Afghanistan Cricket Board and they were asking us to play a (ODI) series but we didn't find any attraction playing the series," Sethi said at a press conference in January.
"It's mainly because the series was meant for the [Super League] points, and now no matter who wins it won't make a difference. So we agreed to play a series of three T20Is in Sharjah just after the PSL subject to government approval. We will share 50% of the revenue from the series equally. And we will jointly outsource the production," he added. 
The support staff and Pakistan squad for the series against Afghanistan is likely to be announced within the next few days.