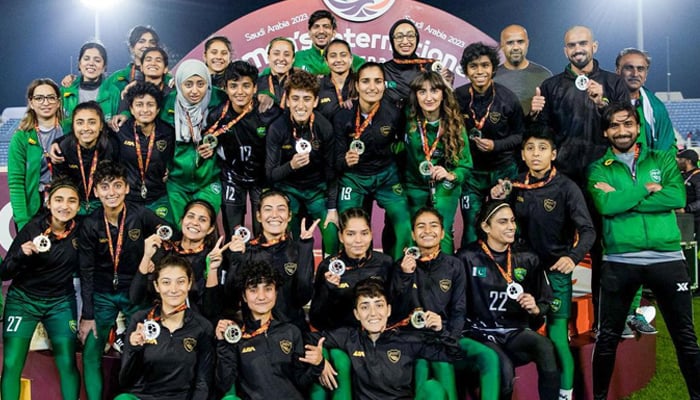 The head coach of the Pakistan women's football team Adeel Rizki has confirmed that the Pakistan Football Federation (PFF) is working on launching a women's league with the support of FIFA.
Rizki hopes that the league will be instrumental in improving women's football in Pakistan.
"[Before] there was only the national women's championship which was held for a very short period once a year," Rizki told FIFA.com. "Now we are working closely with FIFA to launch the women's league, which could be the game changer for women's football in Pakistan."
Rizki was also satisfied with his team's progress since returning to the international arena after a long gap of eight years.
"Our idea is to compete in every competition available to us, through which we can give our players global exposure," he said.
"We want to involve young players in order for us to develop a team for the future. Most importantly we are focusing on building a team identity and a playing style. This is a process which takes time. We are confident that we are on the right track," he added.
Meanwhile, defender Malika-e-Noor stated that the potential for the women's game is huge in Pakistan.
"Since I started playing football, I have seen a huge difference in the development of women's sports in Pakistan," said the 28-year-old defender. "It is not only in football but also in other sports. Talking about football, now we have different clubs and academies working on developing the game at the grassroots levels."
"Our recent performances helped restore the place of women's game in the fans' hearts. Those who said football had no future before are now standing behind us and supporting us. They are willing to let their daughters, sisters and wives to play the game to represent our country at international level. Our federation is consistently investing in women's football, and I am really hopeful that one day we will play in an Olympic tournament and at a FIFA Women's World Cup," she added.
It must be noted that Pakistan finished second in the recently-concluded four-nation cup in Saudi Arabia.
Pakistan won their match opening match against Comoros, 1-0, but they suffered defeat in their second encounter against Mauritius 2-1. Their final match against the home side Saudi Arabia ended in a 1-1 draw.