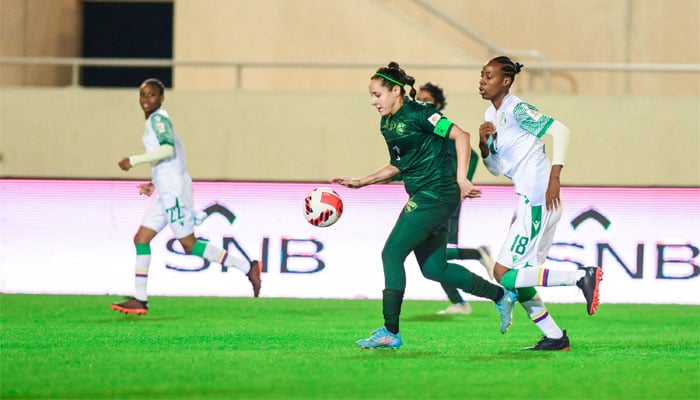 Pakistan women's skipper Maria Khan gave an emotional speech after scoring a stunning goal against Saudi Arabia in the four-nation cup on Thursday.
At the Prince Saud bin Jalawi Stadium, Pakistan drew against Saudi Arabia in their last match of the tournament to finish second with four points.
Captain Maria, who was declared the best player of the event, scored a screamer from distance to help Pakistan equalise and draw the match.
The Pakistan Football Federation (PFF) uploaded a video where the Pakistan skipper gives an emotional speech after the match,
"If this tournament doesn't show you that we belong, I don't know what else will. Everyone of you stepped up when you needed to step up. Every single sub that came on made a difference in the game. This is the standard and we are only gonna get better. Now that we have seen that every single one of you can step up, guys it's only up from here. Upwards and onwards," she said in the video.
Pakistan women's team played an entertaining draw against Saudi Arabia in their last four-nation cup clash.
In the first half, Saudi Arabia took a 1-0 lead. The hosts won a free-kick inside their own half and it was put into Pakistan's half, which was anticipated by Pakistan's defender but Saudi number nine Albandari Mubarak was quick and sharp as she snatched a loose ball and ran into the box to place the ball into the right corner.
However, Pakistan equalised after a great fightback. Pakistan won a free kick in the 65th minute. Everyone in the box waited for a lofted cross from Pakistan skipper Maria Khan, but she fancied her chances from distance and opted for a shot at goal, which the Saudi Arabia goalkeeper couldn't stop as it ended in the back of the net.
Earlier, Pakistan lost to Mauritius 2-1 in their second match of the tournament. Before that, they defeated Comoros by 1-0 in their opening encounter.