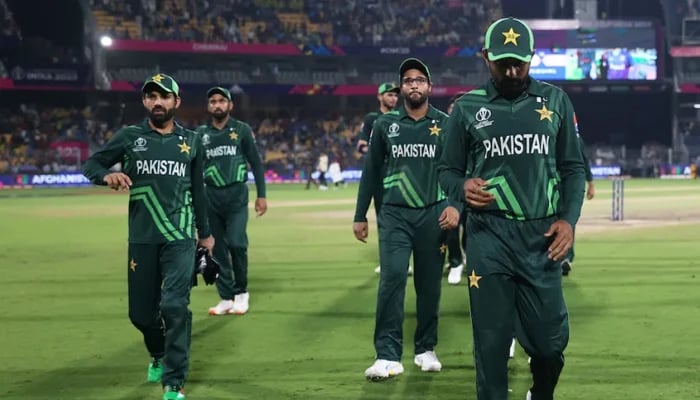 Pakistan once again failed to qualify for the semi-final of the World Cup. The Green Shirts have made a habit of keeping themselves alive in the semi-finals race of the World Cups depending on other teams' results.
In the 2019 World Cup Pakistan were in a similar situation as they were competing against New Zealand for the semi-final place and were drawn against Bangladesh for their final league game.
Pakistan's ouster from the semi-finals meant that they have played just one World Cup semifinal in 2011 since losing the final to Australia in 1999.
Pakistan started the World Cup 2023 as one of the favourites and with two wins in first two matches, against the Netherlands and against Sri Lanka with the highest ever chase (345), they proved that they could qualify for the semi-finals.
But Pakistan managed only four wins in the end - the last two against New Zealand and Bangladesh.
Pakistan team reached the semi-finals in four consecutive World Cup editions — in 1979, 1983, 1987 and 1992.
They were eliminated in the quarter-finals in the 1996 in India against the home side. They reached the final in 1999, but lost to Australia. In 2003 and 2007 editions, they failed to cross the group stage.
Openers have been the weakest point in Pakistan's batting line-up for a long time. The management has tried many players, but the opening slots have remained inconsistent. Fakhar Zaman, Imam-ul-Haq and Abdullah Shafiq were tried in the World Cup but the trio failed to provide solid starts consistently.
In the game against Netherlands, Fakhar Zaman and Imam-ul-Haq provided only a 15-run opening stand. In Hyderabad, on a perfect batting track against Sri Lanka where Pakistan chased 344, Imam-ul-Haq and Abdullah Shafiq managed 16 runs.
In the most crucial game against India, Imam-ul-Haq and Abdullah Shafiq shared a 41 runs partnership. Only against Australia, Imam and Abdullah showed some guts, scoring 134 runs together.
Imam and Shafiq provided 56 runs stand against Afghanistan while against South Africa, the openers fell at 20. The second century opening partnership came against Bangladesh when Fakhar Zaman was back in the side and with Abdullah Shafiq he managed 128 runs.
In the most important game against New Zealand, Abdullah fell at the score of six and in the last game against England, he was out on the second ball of the inning on 0.
Abdullah Shafiq (336), Fakhar Zaman (220) and Imam ul Haq (162) scored 718 runs in the mega event, averaging 42, 73 and 27, respectively.
On the other hand, Indian openers provided much better opening stands. Opener Rohit Sharma in nine matches scored 503 runs, including one century and three fifties, at an average of 55.88.
In the middle order, contributions from Babar Azam (320), Mohammad Rizwan (395) and Iftikhar Ahmed (142) were not enough for Pakistan.
Fakhar Zaman (18), Muhammad Rizwan (5), Babar Azam (4) and Imam-ul-Haq (0), collectively hit 27 sixes in the tournament while Indian skipper Rohit Sharma has smashed 28 sixes alone. His partner Shubman Gill has hit 12.
Another main reason for Pakistan's under-performance is the failure of main bowlers, especially the spinners.
Shaheen Shah Afridi, Haris Rauf, Hassan Ali, Shadab Khan and Usama Mir are not as effective as we want them to be. They don't have early wicket-taking ability. They all seem to lack the necessary discipline.
Shaheen Shah Afridi was the top wicket-taker from Pakistan with 18 wickets, averaging 26.72.
Haris Rauf conceded 533 runs for 16 wickets, but his economy rate of 6.74 was very high. The third seamer Hasan Ali took 9 wickets at an average of 35.66 and an economy rate of 6.29.
Mohammad Wasim's bowling performance was much better than the regular pacers as he took 10 wickets at an average of 21.5 and an economy rate of 5.63.
Spinners disappoint the most. Shadab Khan (2/237), Muhammad Nawaz (2/223) and Usama Mir (4/248) collectively took only eight wickets after conceding 708 runs i.e. 88.5 runs per wicket.
On the other hand, only Australia spinner Adam Zampa has taken 22 wickets alone with a low average of 18.9 and an economy rate of 5.26.
Indian spinner Kuldeep Yadav has also taken 14 wickets, with a reasonable average of 22.28, but his economy rate of 4.15 is amazing. Even Ravindra Jadeja, who is not a great spinner, has taken 16 wickets with a good average of 18.25 and an amazing economy rate of 3.97.
England's Adil Rashid (15), South Africa's Keshav (14) and Afghanistan's Rashid Khan (14) took more wickets single handedly than Pakistan's three spinners.
We should admit our failures gracefully and should not depend on other teams' results. One thing is clear: the Green Shirts didn't deserve to be in the last four.
Cricket is a sport that demands consistent performances. If a team experiences ups and downs in their form, it can affect their overall standing in tournaments.
Team dynamics play a crucial role in a team's success. If there are issues with communication, understanding among players, or conflicts within the team, it can impact performance on the field.
The ability to handle pressure situations is crucial in mega tournaments. Pakistan has often struggled to maintain composure in high-stakes matches, leading to critical errors and subpar performances.
Despite the worst performance at the mega event, the English board neither sacked the team management or the captain.
But in Pakistan, after losing in any mega event, people and the critics want changes in the management and the team. Changing the captain and the management after every tournament or the series is not a great idea. This could demoralise the team that will affect the team's overall performance as the new captain takes time to settle.
Interestingly, the Green Shirts' pathetic performance came in the ODI World Cup but the PCB changed the captains for Test and T20 formats. Opener Shan Masood was appointed captain for Tests and Shaheen Shah Afridi for T20Is. No announcement was made for ODIs.
With the replacement of captain, the PCB also appointed former all-rounder Mohammad Hafeez as the team director in place of Mickey Arthur.
Let's see how the changes work.
If we want to reclaim the lost glory we should start now to prepare for the T20 World Cup 2024 in the West Indies and the United States, the 2025 Champions Trophy in Pakistan and ODI World Cup 2027 in South Africa.