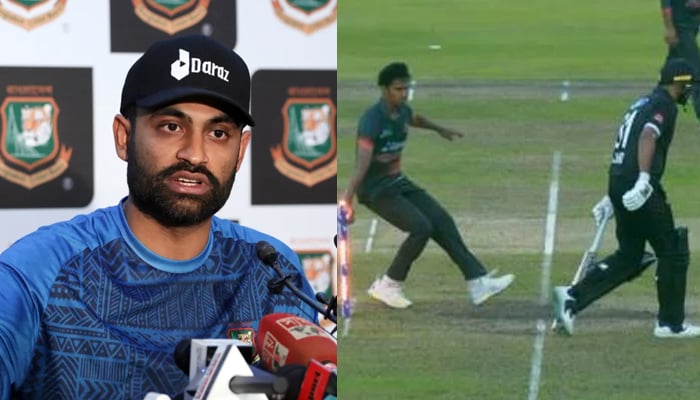 Bangladesh opener Tamim Iqbal thinks that they shouldn't have called back New Zealand's Ish Sodhi after his run-out at the non-striker's end on Saturday in the second ODI.
During the second ODI between Bangladesh and New Zealand on September 23, 2023, a significant controversy arose involving Sodhi. The incident occurred in the 46th over of the game when fast bowler Hasan Mahmud of Bangladesh noticed Sodhi backing up too far from his crease at the non-striker's end.
Seizing the opportunity, Mahmud dislodged the bails and appealed for a run-out. Upon review by the TV umpire, Marais Erasmus, replays confirmed that Sodhi was indeed out of his crease when the bails were removed, leading to an initial decision of Sodhi being out.
However, in a surprising turn of events, Bangladesh's captain, Litton Das, intervened. After discussing with the umpires, Das decided to recall Sodhi back to the pitch, a gesture that was seen as a remarkable display of sportsmanship.
Upon his return, Sodhi and Mahmud shared a hug, a moment that was widely appreciated and went viral on social media platforms.
Speaking at the post-match press conference, Tamim said that he didn't see anything wrong with the mode of dismissal. The opener also went on to say that Sodhi shouldn't have been called back after being dismissed
"I don't see anything wrong in it. The rule is there. If we get someone out, or one of us gets out in that manner, I don't think we should react the way people are reacting nowadays. I think it is a team decision."
"If it is a team decision that we will take wickets in this way, we will. If we don't want to take it, we will not try it. I don't think it looks good to bring back a batter after getting him out. Either we take it, or we don't do it," said Tamim.
Sodhi's performance in the match was commendable. He became the first New Zealand spinner to claim six wickets in a one-day international, guiding his team to an 86-run victory against Bangladesh.
Additionally, he scored 35 runs off 39 balls, contributing significantly to New Zealand's total score of 254. His performance earned him the title of 'Player of the Match' for his career-best six-for and his crucial contribution with the bat.