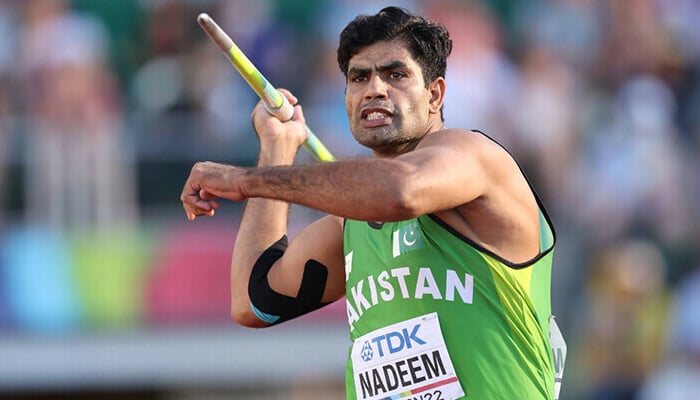 LAHORE: The Athletics Federation of Pakistan (AFP) plans to hold open trials on June 11 here at the Punjab Stadium in order to pick athletes for the Asian Championships which will be held in Pattaya, Thailand, from July 12-16.
"Yes we will hold open trials in five or six events in order to select the athletes for the Asian Championships which will be held next month," AFP Secretary General Mohammad Zafar told 'The News' on Friday. 
"We are going to negotiate it in a few hours and will also finalise the time of trials and will issue a circular also.
"As per allocation we can field five athletes in the Asian Championships. The ratio of each gender depends on us.
"You know we are strong in a few events like javelin throw, 100m, 200m and 400m." 
Asked why AFP is not going to select the athletes for the Asian Championships on the basis of the performances in the recently held National Games, Zafar questioned how it is possible when AFP had not been involved in that event.
"AFP was not part of that event and so we don't know how everything has been conducted. I don't know whether there was auto-timer and the things were conducted properly or not," Zafar said.
About the premier javelin thrower Arshad Nadeem's participation in the Asian Championships, Zafar said he is fit and will participate in both the Asian Championships and World Championships. 
"Yes he is fit and we expect him to shine in both the Asian Championships and World Championship," he said.
"As far as his performance in the National Games is concerned so I have received reports that he had complained that the pitch was uneven and that created some issues in his run-up," he said. "But I will personally meet him tomorrow and will discuss how he feels. But I am confident he is fit and will be our medal hope in both the Asian Championships and World Championships."
Arshad, also the 2022 Birmingham Commonwealth Games and 2022 Turkey Islamic Games gold medallist, managed a throw of 78.02m in Quetta to win gold in the National Games a few days ago. This was his first appearance in a competitive event at any level since surgery of his left knee and right elbow in London a few months back. After managing gold Arshad had told this correspondent that he played with a certain plan. 
Pakistan No 2 Mohammad Yasir gave tough time to Arshad by managing a throw of 77.50m, which was also his personal best. Yasir was trained by Arshad's former coach Fayyaz Hussain Bukhari who is also WAPDA's coach. The AFP plans to send the names of the selected athletes to the organisers of the continental event immediately after the trials.
"Yes we will send the names immediately InshaAllah. A panel of coaches or you may say technical officials will conduct the trials," Zafar said. 
He said that although AFP has set up a camp of three athletes and two coaches at Lahore through the support of the Pakistan Sports Board (PSB) but after finalising the squad the federation will request the Board for the camp for the Asian Championships.
Zafar said that the Asian Championships will also help the athletes to prepare well for the Asian Games slated to be held in Hangzhou, China, from September 23 to October 8. Zafar also made it clear that only Arshad Nadeem will feature in the World Championships which will be hosted by Hungary in Budapest from August 19-27. It is pertinent to mention here that Arshad finished fifth in the World Championships in Oregon, US, last year. He also finished fifth in the Tokyo Olympics.