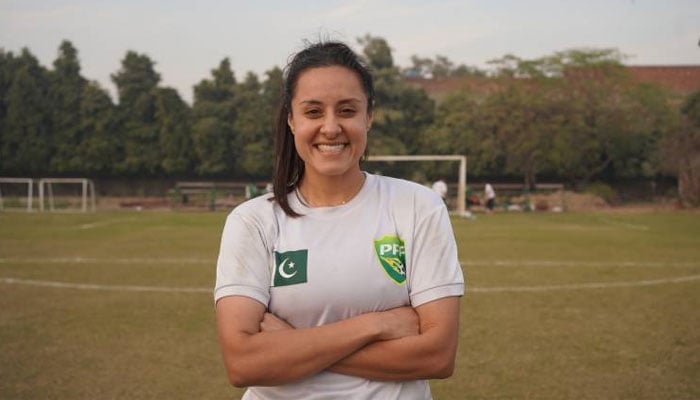 Pakistan women's football team captain Maria Khan believes that inclusivity is the key to forming a cohesive unit on the field. 
Maria revealed that she didn't feel included in her team while playing football in the United States. 
"When I was in the US, I didn't feel included in the teams I played in because nobody looked like me. I was playing with the white girls and I was the brown girl that didn't fit in. They came from privileged backgrounds and I was there on scholarship," Maria said while sharing her thoughts on Zalmi TV.
"I knew that if I was ever part of a team or one of the leaders within a team, I would do everything in my power to make sure everyone felt they had a voice and felt included.
"Because if you as a player don't feel included in your own team, it would be very difficult to get the best out of them. I experienced that and I promised myself I would never make any player feel that way."
She also shed light on switching from a goalkeeper to a midfielder.
"I was a goalkeeper in the US but when I came to the UAE nobody knew me here so I decided to try something else. I had put on a lot of weight at the time, I was like ok let me just go in the field and drop some kgs and I ended up staying in the midfield for the past 10 years," she said. 
Maria was named Pakistan captain last year, before the SAFF Women's Championship, when the national side returned to international football for the first time in eight years.
Maria also led the Pakistan contingent during the AFC Olympic Qualifiers in Tajikistan earlier this month. However, she was forced to miss two out of three matches due to injury. 
It is worth mentioning here that Maria is the granddaughter of former world squash champion Hashim Khan, who won the British Open title seven times.