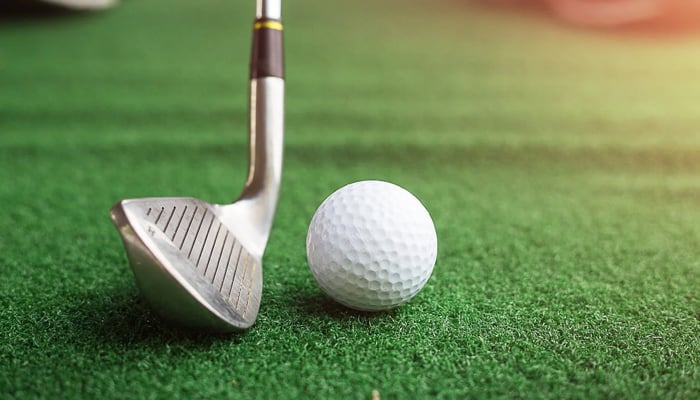 LAHORE: Ahmed Baig of PAF was in complete control of the proceedings on Saturday at the first Rumanza Open Golf Championship.
After the completion of the third round of the Championship, carrying a prize money of Rs12 million, being contested at the Rumanza Golf Course, Ahmed was in total command.
Ahmed, a brand ambassador for Rumanza, maintained his hold on the competitive drift of the event. Adversaries like Shabbir Iqbal, Matloob Ahmed, Saqib, Naeem and Ashfaq who have many accomplishments to their credit did put in a great effort to neutralise Ahmed but somehow his excellence was unparalleled.
In the course of the third round on Saturday, his golfing prowess fetched him birdies on holes 2 and 3, then on 5th hole and on the back nine on holes 11, 15 and the closing 18th.
The birdies added upto six in all complemented by eight regulation pars. Stroke losses hit him too on four holes but the birdies advantage prevented any set back to his leadership standing.
His round of 70 added to his first round similar 70 and the second rounds merited 67 gives him an aggregate of 207, nine under par and an advantage of seven strokes over his nearest rival Muhammed Minhaj Maqsood of Rawalpindi Golf Club.
Minhaj Maqsood a South Africa trained golf professional is looking notably seasoned and his performance in the third round was upscale and smart.
Five birdies on holes 3, 7, 9 and then consecutive ones on holes 16 and 17 highlights the remarkable element in his game. He did encounter three bogies too but overall he was a competitor in control of the fierce competitive situation.
His scores for three rounds are 68, a modest 76 and again an applaudable 70. Total for three rounds is 214, four under par and he will play the last round on Sunday in the leaders flite with Ahmed Baig and third placed Muhammed Shahzad of Lahore Garrison.
M. Shahzad is beginning to look more and more proficient and his name appears prominently in prestigious open golf championships. Here also at Rumanza Golf Course he is well placed two strokes behind Minhaj and with three rounds aggregate score of 216, gets noticed for an impressive show of golfing skills.
Other notable ones looking fairly good are Ashiq Hussain (Multan)at 218 alongwith M. Naeem of Peshawar who is also at 218. M. Munir who played the best round of the third day with a score of gross 68 helped by eight birdies, six pars and four bogies is at an aggregate score of 219.
M. Saqib is at 221 along with three others, Muhammed Alam, Abdul Zahoor and Kashif Masih.
Five players are bunched together at a score of 223. They are Syed Raza Ali, Muhammed Zubair, Muhammed Ashfaq, Aashir Masih and the experienced Shahid Javed Khan.
Senior Professionals completed their round yesterday with Pervaiz Khan of Airmen Golf Club emerging as the winner. Other positions went to M. Tariq (Islamabad) and Muhammed Akram.
Senior amateurs first position was secured by Muhammed Sarfraz of Rumanza Golf Club. Runner up was Umair Butt of Defence Raya.
In the amateurs event Salman Jehangir of Lahore Gymkhana leads the gross section with a score of 222 for three days.