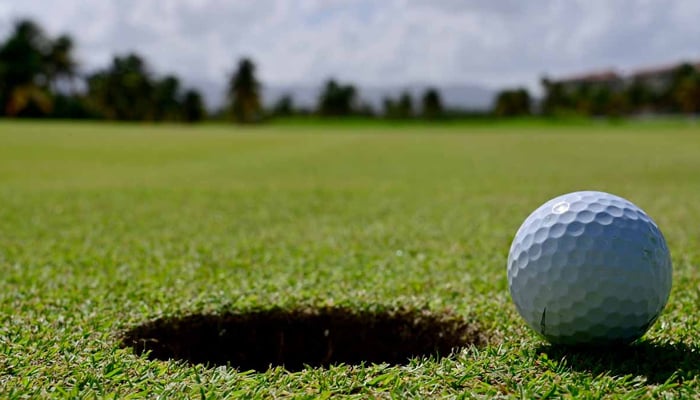 LAHORE: Seasoned golfer Matloob Ahmed of Lahore Garrison maintained his supremacy in the 9th J.A Zaman Open Golf Championship here at the Lahore Gymkhana Golf Course on Saturday.
The memorial event, carrying a prize money of Rs6 million, is now near completion. Leader of this event after three rounds and 54 holes was Matloob who is ahead of his rather furiously competitive combatants with three rounds scores of 70, 69 and 70 and a total match aggregate score of 209, seven under par.
Matloob's nearest rival in the final round on Sunday would be Ahmed Baig of Royal Palm. For Baig the round on Saturday was a fulfilling one. Eight birdies on holes 7, 8 and then on 10 and 11 and four consecutive birdies on holes 15, 16, 17 and 18 reflected incomparable merit.
Earlier in the round he had been a little messy as he encountered a double bogie on the 5th hole and bogies on holes 4 and 6. Competition wise he is placed at a score of 210, six under par and merely one stroke behind the leader Matloob Ahmed. From the statistical angle his score for three rounds were 69, 73 and 68.
The flow of the game will certainly not be placid in the final 18 holes on Sunday as the mighty one of the national golf scene, Shabbir Iqbal has worked his way into the vanguard and will join Matloob and Ahmed Baig in the final three ball flite.
At the conclusion of the second round on Friday, Shabbir Iqbal was placed at the modest looking 12th position. Battle hardened and capable that he is, he produced the best round of the third day, an outstanding 67 and thereby aggregated his score to an assertive 212, four under par and three strokes behind Matloob, the leader and now he will be on the run for victory.
Interestingly also placed at 212 are two golfers associated with Lahore Gymkhana. Akber Mehroze is one and Sunny Masih another. Both will be vying for top honors on Sunday.
A few others placed well are Shahid Javed Khan and M. Munir. Both are bunched at 214, two under par. At 215 are Muhammed Alam and Taimoor Khan and at a score of 216 is Talat Ijaz.