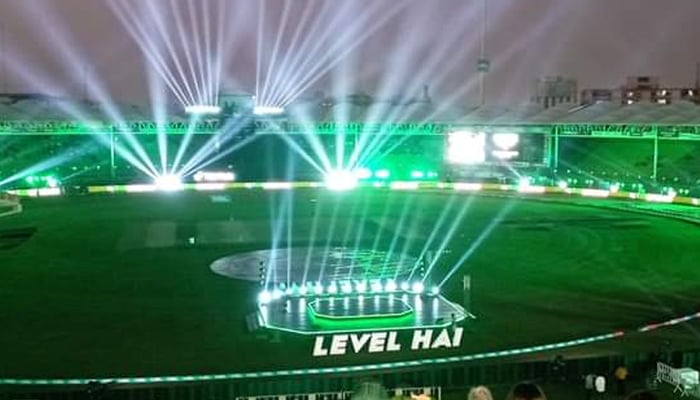 KARACHI: Pakistan Super League (PSL) season 8 is just around the corner and preparations are in full swing to put up another perfect edition in the league's history. 
Multan is going to host PSL's opening ceremony for the first time in history. The mega opener at Multan Cricket Stadium will take place on February 13. 
According to sources, Sahir Ali Bagga and Aima Baig will perform in the opening ceremony alongside PSL 8 official anthem singers - Asim Azhar, Shae Gill, and Faris Shafi. 
For the first time in PSL's history, Augmented Reality (AR) and Virtual Reality (VR) technology will be used in the opening ceremony. A light show with the help of drones will be set up to amuse cricket fans across the world. 
Pakistan Cricket Board (PCB), under the leadership of Najam Sethi, is determined to make this year's PSL bigger and better. In his press conferences after taking charge as PCB head once again, Sethi reiterated that there is a need to revamp PSL as a brand. 
"The PSL 8 will be a massive event for the PCB, taking place at the four iconic venues with the world's best T20 cricketers in action. We aim to make the PSL bigger, better and stronger than ever before with the overarching ambition to make it the first-choice event for leading T20 cricketers," he had said. 

Sethi and his team increased PSL's branding budget from $100,000 to $1 million. 
Here's the complete schedule:
13 Feb - Multan Sultans v Lahore Qalandars, Multan Cricket Stadium
14 Feb - Karachi Kings v Peshawar Zalmi, National Bank Cricket Arena
15 Feb - Multan Sultans v Quetta Gladiators, Multan Cricket Stadium
16 Feb - Karachi Kings v Islamabad United, National Bank Cricket Arena
17 Feb - Multan Sultans v Peshawar Zalmi, Multan Cricket Stadium
18 Feb - Karachi Kings v Quetta Gladiators, National Bank Cricket Arena
19 Feb - Multan Sultans v Islamabad United, Multan Cricket Stadium; Karachi Kings v Lahore Qalandars, National Bank Cricket Arena
20 Feb - Quetta Gladiators v Peshawar Zalmi, National Bank Cricket Arena
21 Feb - Quetta Gladiators v Lahore Qalandars, National Bank Cricket Arena
22 Feb - Multan Sultans v Karachi Kings, Multan Cricket Stadium
23 Feb - Peshawar Zalmi v Islamabad United, National Bank Cricket Arena
24 Feb - Quetta Gladiators v Islamabad United, National Bank Cricket Arena
26 Feb - Karachi Kings v Multan Sultans, National Bank Cricket Arena; Lahore Qalandars v Peshawar Zalmi, Gaddafi Stadium
27 Feb - Lahore Qalandars v Islamabad United, Gaddafi Stadium
1 Mar - Peshawar Zalmi v Karachi Kings, Pindi Cricket Stadium
2 Mar - Lahore Qalandars v Quetta Gladiators, Gaddafi Stadium
3 Mar - Islamabad United v Karachi Kings, Pindi Cricket Stadium
4 Mar - Lahore Qalandars v Multan Sultans, Gaddafi Stadium
5 Mar - Islamabad United v Quetta Gladiators, Pindi Cricket Stadium
6 Mar - Quetta Gladiators v Karachi Kings, Pindi Cricket Stadium
7 Mar - Peshawar Zalmi v Lahore Qalandars, Pindi Cricket Stadium; Islamabad United v Multan Sultans, Pindi Cricket Stadium
8 Mar - Pakistan Women's League Exhibition Match 1, Pindi Cricket Stadium; Peshawar Zalmi v Quetta Gladiators, Pindi Cricket Stadium
9 Mar - Islamabad United v Lahore Qalandars, Pindi Cricket Stadium
10 Mar - Pakistan Women's League Exhibition Match 2, Pindi Cricket Stadium; Peshawar Zalmi v Multan Sultans, Pindi Cricket Stadium
11 Mar - Pakistan Women's League Exhibition Match 3, Pindi Cricket Stadium; Quetta Gladiators v Multan Sultans, Pindi Cricket Stadium
12 Mar - Islamabad United v Peshawar Zalmi, Pindi Cricket Stadium; Lahore Qalandars v Karachi Kings, Gaddafi Stadium
15 Mar - Qualifier (1 v 2), Gaddafi Stadium
16 Mar - Eliminator 1 (3 v 4), Gaddafi Stadium
17 Mar - Eliminator 2 (loser Qualifier v winner Eliminator 1), Gaddafi Stadium
19 Mar - Final, Gaddafi Stadium