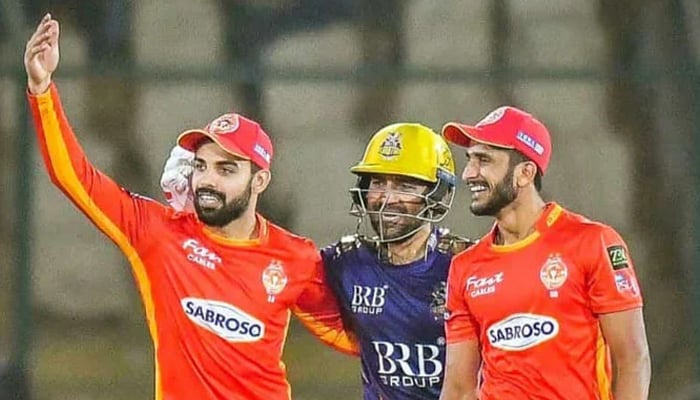 Islamabad United captain Shadab Khan has made a tongue-in-cheek comment about losing to his friends and teammates during the Pakistan Super League (PSL).
Shadab will lead two-time champions Islamabad United during the upcoming season eight of PSL, which begins on February 13 in Multan.
"When I am playing in the PSL, I am more focused because I don't want to lose to my teammates and close friends, otherwise they remind you about that the whole year with their teasing comments," Shadab told the PCB Podcast on Tuesday.
Shadab also highlighted how the PSL played a pivotal role in his development as a cricketer.
"What I am today is solely due to PSL. I entered in this competition as an Emerging Category player, but this tournament gave me the opportunity, belief and confidence to grow and develop as a cricketer and I am pleased that I am now a Platinum Category player," he said.
"When I started my cricket, I thought I could be a good U19 or domestic cricketer, but then I got the opportunity in PSL 1 where I was able to deceive and trouble the then world's best batter Kumar Sangakkara with my wrong'un or leg-spin. This turned things around for me as I started believing in myself and now I can play in any competition, against any opponent and in any tournament with the conviction that I can perform.
"It was the PSL that provided me with the chance to demonstrate my captaincy and batting abilities with performances and establish myself as a useful and effective all-rounder. Cricket is not only about skill, but also about mental toughness and I think PSL provided me that platform where I was actually able to identify and trust my talent and abilities."
He also reiterated that quality of bowling in PSL is better than any other T20 league in the world.
"The quality and standard of bowling in PSL is far superior than any other league. And it is not me who is saying this, but it is shared publically by the top players who have played in PSL. Personally, it gives me a lot of happiness when world's best cricketers praise our league and its standard," he concluded.