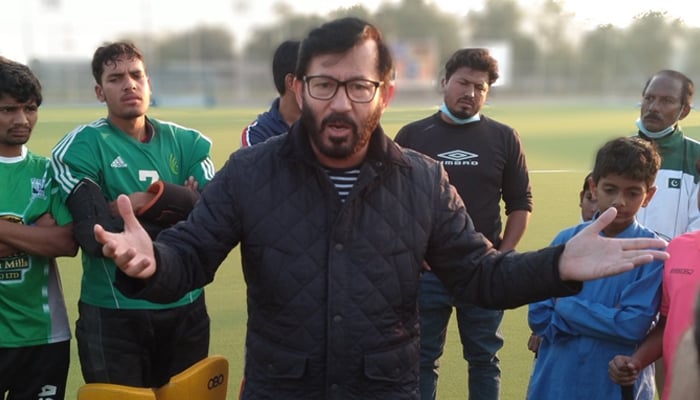 Former Pakistan hockey team manager and Olympian Khawaja Junaid is likely to challenge in court the life ban imposed on him by the Pakistan Hockey Federation.
According to sources, Junaid is currently working out the details with his legal counsel before moving the court.
Junaid says that he stepped down after the Asia Cup debacle last year, where Pakistan fielded 12 players instead of 11 during a match against Japan, but that doesn't mean that he was the only one responsible for the blunder.
"The decision to not take action against others involved in the mistake make this decision suspicious," he added.
It must be noted that a PHF Inquiry Committee slapped a life ban on Junaid on Tuesday.
Pakistan failed to qualify for the super four of the Asia Cup, which meant that they were not able to qualify for the World Cup.
The Green Shirts lost the important match against Japan during the Asia Cup after one of their goals was disallowed for having 12 players on the field.
PHF Legal Advisor Mian Ali Ashfaq also opened up about the verdict of the committee.
"Pakistan faced a lot of embarrassment due to Khawaja Junaid. Due to his misconduct, Pakistan failed to qualify for the World Cup," said Ashfaq.
"The decision to ban him has been taken in line with FIH rules," he added.
He also stated that Junaid didn't appear before the committee to present his point of view.
"Committee had called Junaid to appear before the committee but he didn't oblige," he said. "The decision to ban him has also been approved by PHF president."
Meanwhile, PHF Secretary Haider Hussain said that Junaid had told him over WhatsApp that "he was not responsible for the debacle".
However, Hussain added that, according to FIH rules, this responsibility lies with the manager.
Despite Pakistan's rich history in hockey, winning multiple Olympic Gold Medals and World Cup titles, the situation of the game in Pakistan has gone from bad to worse over the last couple of decades.
Pakistan failed to qualify for back-to-back Olympic Games, 2016 and 2022, while also missing out on the 2023 World Cup. They also faced the humiliation of missing a World Cup for the first time in their history back in 2014.