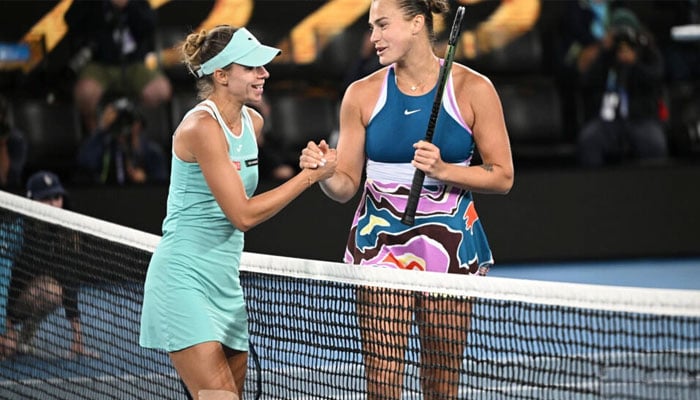 MELBOURNE: Beaten Magda Linette said Thursday that making a maiden Grand Slam semi-final at the age of 30 had been reward for years of "hard work and sacrifices".
The Polish world number 45 will rise to a career-high 22nd when the new rankings are released on Monday, despite losing to Aryna Sabalenka of Belarus 7-6 (7/1), 6-2 in the last four.
Sabalenka goes on to face Elena Rybakina in Saturday's women's singles final at Melbourne Park, while surprise-package Linette said she "will definitely need some rest".
Linette enjoyed a dream run to her first major semi-final, knocking out four seeded players on the way including world number four Caroline Garcia of France.
But fifth seed Sabalenka, who extended her flawless unbeaten start to 2023 to 10 matches without dropping a set, proved to be one hurdle too many.
"I'm definitely going to think a little bit about it. But I didn't feel I did too much wrong. She played really well," Linette told reporters.
Two years ago Linette had knee surgery and was in constant pain. It has been a long road back to reach this level.
"I'm just proud that I could keep the level for so long and still come out tonight, on such a big occasion, and feel I belong here and I still played my tennis."
Asked what she would take from the experience of a deep run in a major, Linette replied: "Plenty really. I'm going to maybe realise what just happened in like a week or two.
"But it's really been so rewarding for all the hard work that we've done, for all the sacrifices, all these years on tour, so many Grand Slams," she said.
"It was my 30th attempt. It's really rewarding because I really needed more than a couple of tries."