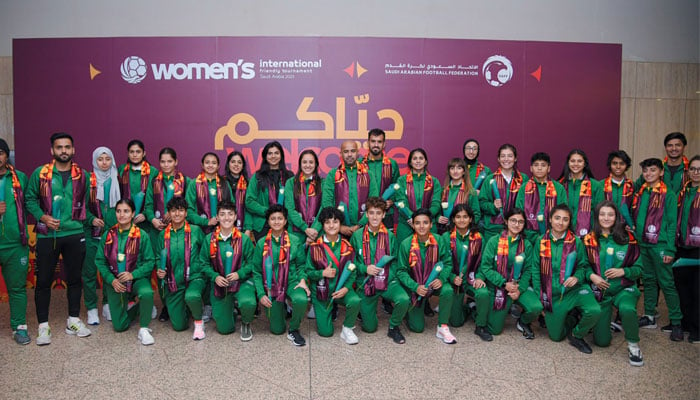 Pakistan women's football team reached Saudi Arabia on Tuesday ahead of the much-awaited four-nation Cup.
Apart from Pakistan, hosts Saudi Arabia, Comoros and Mauritius will be in action in the event that begins on January 11.
The Pakistan Football Federation (PFF) took to Twitter and shared a picture of the national team and the support staff.
The Pakistan women's team will begin their campaign against Comoros on January 11. Their second match is against Mauritius on January 15, meanwhile their final encounter is against Saudi Arabia on 19 of the same month.
It must be noted that the SAFF Women's Championship in Kathmandu, Nepal, in September 2022, was the first time in eight years that the Pakistan women's team participated in an international match.
The four-nation cup will be played in Dammam, Saudi Arabia, between January 11 and 19.

FIFA lifted ban on the PFF, which was imposed in April 2021 due to undue third-party interference, in June 2022.
FIFA also extended the mandate of the Normalisation Committee by 12 months.
According to FIFA, the mandate of the Normalisation Committee includes managing of PFF's daily affairs, ensuring the proper registration and scrutiny of the clubs in Pakistan, draft and ratify, with the assistance of FIFA and the AFC, an electoral code for the PFF, organise the elections at district followed by provincial levels and conduct the elections of a new PFF executive committee.
Pakistan squad: 
Goalkeepers: Rumaysa Khan, Fatima Naz, Mafia Parveen and Nisha Ashraf.
Defenders: Mishal Bhatti, Sara Khan, Sahiba Sherdil, Malika-e-Noor, Nazalia Siddiqui, Sahar Zaman and Sophia Qureshi.
Midfielders: Maria Khan, Amina Hanif, Suha Hirani, Anushey Usman, Marvi Baig and Rameen Fareed.
Strikers: Anmol Hira, Zahmeena Malik, Aliya Sadiq, Nadia Khan, Sanober Sattar, Naqiyah Ali and Zoya Zeeshan.