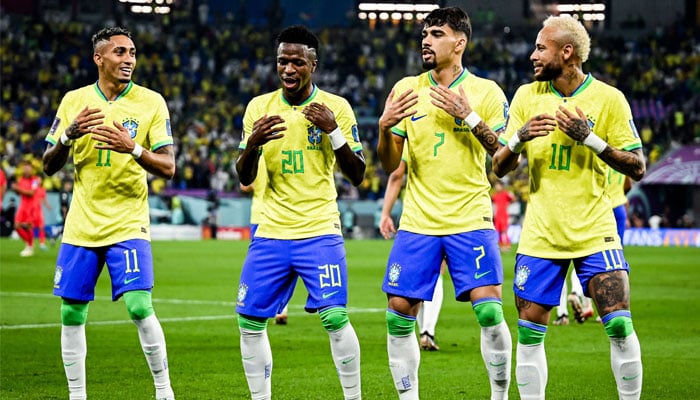 Brazil thrashed South Korea by 4-1 to set up FIFA World Cup 2022 quarter-final clash with Croatia at Stadium 974 on Tuesday.
The five-time world champions beat the Asian side after a dominating performance from their four attackers, Neymar Jr, Vinicius Jr, Raphinha, and Richarlison.
In the seventh minute, Brazil scored on their first attempt. Raphinha's brilliance down the right flank had preceded it. He played a one-two, showed off his dancing feet, moved nearly to the bye line, and then pulled it back.
Vinicius Jr. took a touch, then curved the ball past all five South Korean defenders in front of the goal to give Brazil a 1-0.
After Richarlison was fouled inside the penalty area, Brazil was granted a penalty. Neymar, who had been out with an ankle injury, calmly converted it to make it 2-0 as he sent the South Korean goalkeeper in the wrong way.
In the 18th minute, out of nowhere Hwang Hee-chan nearly got a goal back for South Korea. The Wolves man struck it cleanly from 25 yards, and Alisson dived acrobatically and tipped it over the top.
The five-time champions made it 3-0 in the 29th minute as Richarlison scored after South Korea were sliced open, putting Brazil in the driving seat.
Lucas Paqueta scored his first goal at the FIFA World Cup, extending his team's advantage with a first-time volley after Vinicius Jr. lifted the ball from the left side of the penalty area.
Raphinha cut inside on his left foot nine minutes into the second half and curled a low shot at goal, but Seung-gyu quickly dived down to block it.
In the 70th minute, Hwang Hee-chan's powerfully hit half-volley was one-handedly kept put by Allision but the rebound fell to Son Heung-min, whose shot was blocked by a fantastic challenge from Marquinhos.
South Korea struck back with a wonder strik from 30 yards as substitute Paik Seung-ho hit it from distance. It took a slight deflection but still flew into the top corner, making the score line 4-1.
For Son Heung-min and South Korea, who have yet to triumph in a World Cup knockout game played outside of their own nation, it was all a sobering experience.
Tite made 10 changes to his team for the round of 16 clash after changing his line-up for the group-stage clash with Cameroon.
Eder Militao was the sole player to maintain his position and switch to right-back, while Danilo made his injury comeback at left-back.
At the end of the match, Brazil paid tribute to legendary footballer Pele, who is in hospital in an "end-of-life care" facility.
Brazil will lock horns with Croatia in the quarter-final of the FIFA World Cup at the Education City Stadium on Friday.