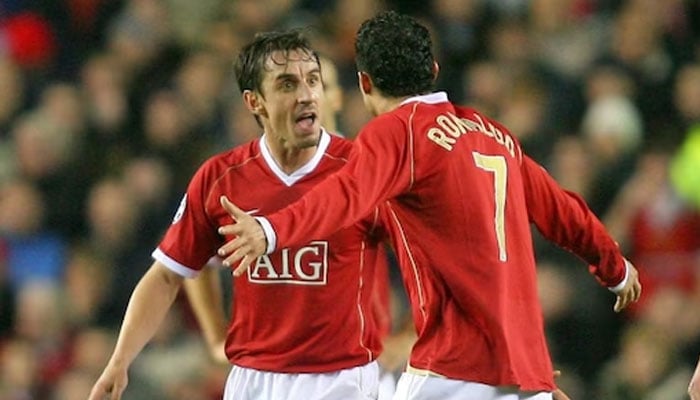 KARACHI: Cristiano Ronaldo's former Manchester United teammate Gary Neville has opened up on the Portuguese star's explosive interview, who claimed he felt "betrayed" by the club.
Speaking to Piers Morgan on TalkTV, Ronaldo stated that he felt betrayed by the club and that some United executives were trying to oust him.
"I don't have respect for him because he doesn't show respect for me. Not only the coach but another two or three guys around the club. I felt betrayed," the Portuguese forward said.
In response to the five-time Ballon d'Or winner's remarks, Manchester United said they are "considering response".
During the fiery interview, Ronaldo also reserved criticism of Neville's coverage of his situation.
However, the former defender indicated that Ronaldo deserves praise for speaking about his views, but said that the club and the player both share the blame for the situation.
"I would never criticise a footballer for being open and being independent thinkers. I have encouraged this for many years instead of them being micro-managed to within an inch of their life by a PR company," Neville told Sky Sports.
"I can't think that's happened here – that any PR advice has told him to do this, he would have done it with his own strength of character and personality.
"There would have been a better way to do it but that is from the club's side as much as Cristiano's side. After the Chelsea game, we had a debate in the (Sky Sports) studio in which I urged Cristiano and the club to come together that week – because it was obvious that the relationship was failing."
Earlier on Wednesday, Raphael Varane admitted that the forward's claims affect Manchester United teammates.
"Obviously it affects us. We follow what is happening and what is being said. We try to calm the situation in our own way, we try not to get too involved in it.," the defender told French radio station Europe 1.