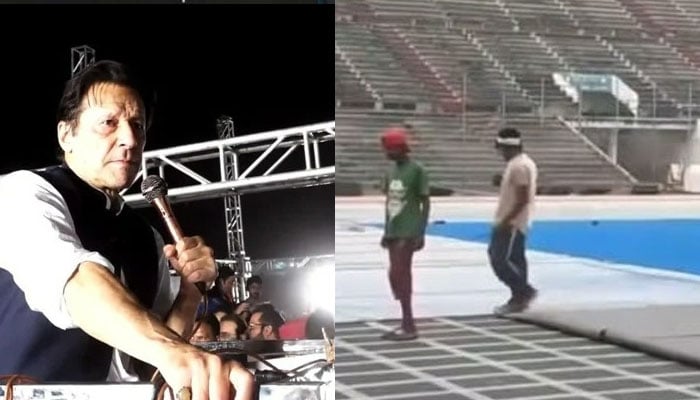 KARACHI: Astroturf at the National Hockey Stadium in Lahore was scrapped to hold a political gathering led by Pakistan Tehreek-e-Insaaf (PTI)'s chairman, former Prime Minister and cricketer Imran Khan.
In a video that went viral on social media, the labour can be seen removing astroturf amid other preparations were in full swing for the political gathering which is scheduled on August 13.
Astroturf at the National Hockey Stadium Lahore is one of the very few well-maintained turfs for hockey players in the country.

Already deprived national game and its international players might suffer for days after the removal of turf.
Pakistan Hockey Federation (PHF)'s acting secretary Haider Hussain told Geo Super that the ground is under the control of Punjab Sports Board (PSB).
"We have nothing to do with it. This ground comes under the control of Punjab Sports Board. Even we take permission from them before holding hockey activities here," clarified the interim secretary.
However, Director Admin PSB Umer Hasan said that the district administration gave permission for the rally in the hockey stadium, and the sports board did not interfere.
The director also talked about the installation of the new Astroturf grass.
"The summary of replacing the turf has been prepared. Summary of Astroturf replacement will be sent within a week. Turf will be imported in a few months, and a new Astroturf will be installed.