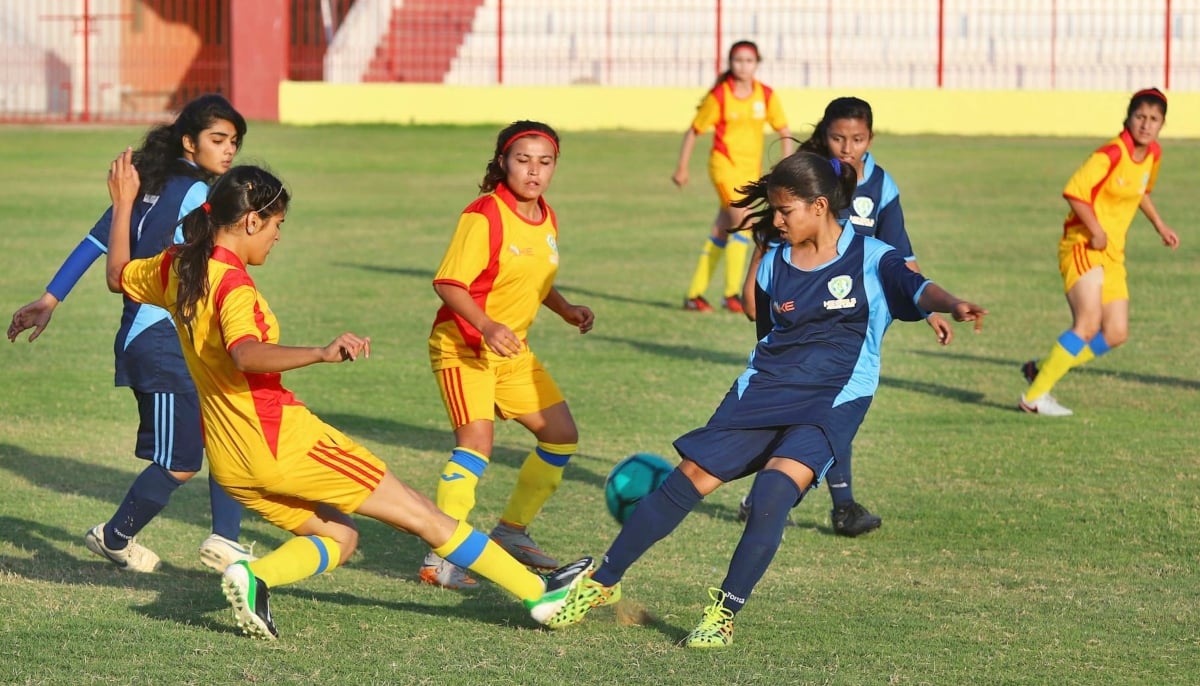 Karachi: The 13th edition of National Women Football Championship will kick off tomorrow in Karachi with over 400 players and officials participating in the event without any pre-tournament Covid-19 testing.
An official from Pakistan Football Federation (PFF) confirmed to Geo Super that pre-tournament COVID-19 testing is not mandatory for participants. However, teams have been informed of some SOPs that will be implemented.
Detailing the SOPs, the official revealed that masks will be mandatory in the dugout and hand sanitizer will be available at ground while teams aren't allowed to have handshakes or scrums. There will also be regular temperature checks.
"Masks are going to be mandatory in the dugout because social distance is going to be difficult," said Daniel Limones, a PFF director, ahead of the tournament opener.
"The main thing is that we have to try to make the championship happen because it's the most important thing because, if not, then the development of the girls' [game] is not going to happen."
Daniel added that the tournament will be stopped in case of any positive tests and will be resumed only after a review because the safety and health of players was important for PFF.
"After reviewing and assessing the situation, we will decide if we have to resume the tournament after two or three days or, or we have to cancel or postpone it for another date," he said.
He added that teams are responsible for their own accommodation but have been provided financial assistance for the purpose.
The championship will run from March 9 to April 3 and will be hosted at two venues - KMC and KPT stadiums. About 59 matches will be played in the tournament where 20 teams will compete against each other.
Four matches are scheduled to be played on opening day of championship. WAPDA will play Gilgit WFC while Hazara Girls Academy will face Quetta Hazara FC in the morning session. Later Karachi United will face Karachi WFC and Masha will play Sialkot City WFC in the afternoon session.
The 20 teams are divided into four groups. Group A includes WAPDA, Gilgit WFC, Model Town WFC, Hazara Girls Academy and Hazara Quetta.
The Group B includes Karachi United, Karachi WFC, HEC, Masha United and Sialkot WFC. While teams from Jafa, Pakistan Army, Young Rising Stars, Riaz Kamil FC and FC Karachi are named in Group C.
The final Group D of the championship include Diya Women FC, Mohsin Gillani WFC, Muk WFC, Highlanders FC and Nawanshehr FC.
Masha United has also included four players from Nepal; Angela Tumbapo, Saru Limbu, Anita KC and Gita Rana have arrived in Karachi to join the team. It will be second time that foreign players will participate in Pakistan's national women football championship after Areesha Riza's stint with Baluchistan United in 2014.
Read: National Women Football Championship to kick off in March
No Covid-19 testing for National Women Football Championship