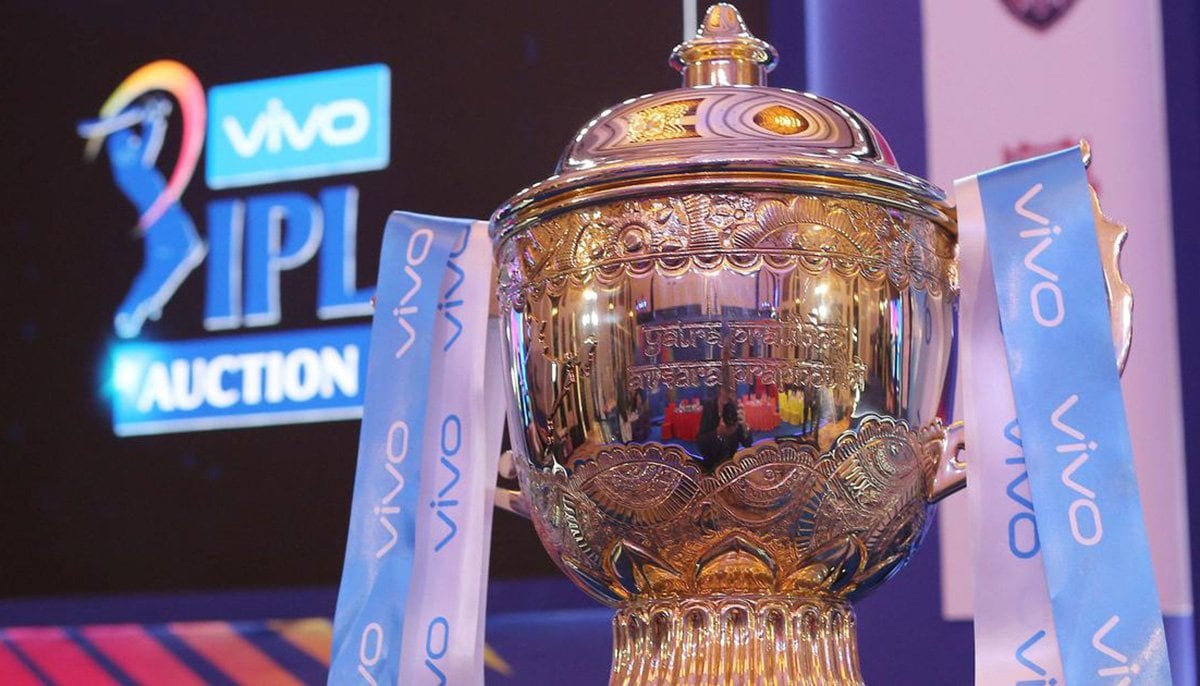 The Indian Premier League (IPL) 2021, scheduled to begin from April 9, is the next major tournament the cricket fans are looking forward to this calendar year.
As big as IPL is, in Pakistan, it fades in comparison to its rival Pakistan Super League (PSL) but hardcore cricket lovers still want to keep track of what's happening across the border. 
READ: Remaining PSL 2021 to be held in one city, bio-secure bubble to be outsourced
To make sure you are in the know regarding what matches are being played where and when, here is the complete IPL 2021 schedule. All timings are Pakistan Standard Time (PST). Indian readers can simply bring up the below-mentioned timings by half an hour.
IPL 2021 Full Schedule:
April 9, Friday Mumbai Indians vs Royal Challengers Bangalore 7:00 PM Chennai

April 10, Saturday Chennai Super Kings vs Delhi Capitals 7:00 PM Mumbai
April 11, Sunday Sunrisers Hyderabad vs Kolkata Knight Riders 7:00 PM Chennai
April 12, Monday Rajasthan Royals vs Punjab Kings 7:00 PM Mumbai
April 13, Tuesday Kolkata Knight Riders vs Mumbai Indians 7:00 PM Chennai
April 14, Wednesday Sunrisers Hyderabad vs Royal Challengers Bangalore 7:00 PM Chennai
April 15, Thursday Rajasthan Royals vs Delhi Capitals 7:00 PM Mumbai
April 16, Friday Punjab Kings vs Chennai Super Kings 7:00 PM Mumbai
April 17, Saturday Mumbai Indians vs Sunrisers Hyderabad 7:00 PM Chennai
April 18, Sunday Royal Challengers Bangalore vs Kolkata Knight Riders 3:00 PM Chennai
April 18, Sunday Delhi Capitals vs Punjab Kings 7:00 PM Mumbai
April 19, Monday Chennai Super Kings vs Rajasthan Royals 7:00 PM Mumbai
April 20, Tuesday Delhi Capitals vs Mumbai Indians 7:00 PM Chennai
April 21, Wednesday Punjab Kings vs Sunrisers Hyderabad 3:00 PM Chennai
April 21, Wednesday Kolkata Knight Riders vs Chennai Super Kings 7:00 PM Mumbai
April 22, Thursday Royal Challengers Bangalore vs Rajasthan Royals 7:00 PM Mumbai
April 23, Friday Punjab Kings vs Mumbai Indians 7:00 PM Chennai
April 24, Saturday Rajasthan Royals vs Kolkata Knight Riders 7:00 PM Mumbai
April 25, Sunday Chennai Super Kings vs Royal Challengers Bangalore 3:00 PM Mumbai
April 25, Sunday Sunrisers Hyderabad vs Delhi Capitals 7:00 PM Chennai
April 26, Monday Punjab Kings vs Kolkata Knight Riders 7:00 PM Ahmedabad
April 27, Tuesday Delhi Capitals vs Royal Challengers Bangalore 7:00 PM Ahmedabad
April 28, Wednesday Chennai Super Kings vs Sunrisers Hyderabad 7:00 PM Delhi
April 29, Thursday Mumbai Indians vs Rajasthan Royals 3:00 PM Delhi
April 29, Thursday Delhi Capitals vs Kolkata Knight Riders 7:00 PM Ahmedabad
April 30, Friday Punjab Kings vs Royal Challengers Bangalore 7:00 PM Ahmedabad
May 1, Saturday Mumbai Indians vs Chennai Super Kings 7:00 PM Delhi
May 2, Sunday Rajasthan Royals vs Sunrisers Hyderabad 3:00 PM Delhi
May 2, Sunday Punjab Kings vs Delhi Capitals 7:00 PM Ahmedabad
May 3, Monday Kolkata Knight Riders vs Royal Challengers Bangalore 7:00 PM Ahmedabad
May 4, Tuesday Sunrisers Hyderabad vs Mumbai Indians 7.00 PM Delhi
May 5, Wednesday Rajasthan Royals vs Chennai Super Kings 7.00 PM Delhi
May 6, Thursday Royal Challengers Bangalore vs Punjab Kings 7.00 PM Ahmedabad
May 7, Friday Sunrisers Hyderabad vs Chennai Super Kings 7.00 PM Delhi
May 8, Saturday Kolkata Knight Riders vs Delhi Capitals 3.00 PM Ahmedabad
May 8, Saturday Rajasthan Royals vs Mumbai Indians 7.00 PM Delhi
May 9, Sunday Chennai Super Kings vs Punjab Kings 3.00 PM Bengaluru
May 9, Sunday Royal Challengers Bangalore vs Sunrisers Hyderabad 7.00 PM Kolkata
May 10, Monday Mumbai Indians vs Kolkata Knight Riders 7.00 PM Bengaluru
May 11, Tuesday Delhi Capitals vs Rajasthan Royals 7.00 PM Kolkata
May 12, Wednesday Chennai Super Kings vs Kolkata Knight Riders 7.00 PM Bengaluru
May 13, Thursday Mumbai Indians vs Punjab Kings 3.00 PM Bengaluru
May 13, Thursday Sunrisers Hyderabad vs Rajasthan Royals 7.00 PM Kolkata
May 14, Friday Royal Challengers Bangalore vs Delhi Capitals 7.00 PM Kolkata
May 15, Saturday Kolkata Knight Riders vs Punjab Kings 7.00 PM Bengaluru
May 16, Sunday Rajasthan Royals vs Royal Challengers Bangalore 3.00 PM Kolkata
May 16, Sunday Chennai Super Kings vs Mumbai Indians 7.00 PM Bengaluru
May 17, Monday Delhi Capitals vs Sunrisers Hyderabad 7.00 PM Kolkata
May 18, Tuesday Kolkata Knight Riders vs Rajasthan Royals 3.00 PM Bengaluru
May 19, Wednesday Sunrisers Hyderabad vs Punjab Kings 3.00 PM Bengaluru
May 20, Thursday Royal Challengers Bangalore vs Mumbai Indians 7.00 PM Kolkata
May 21, Friday Kolkata Knight Riders vs Sunrisers Hyderabad 3.00 PM Bengaluru
May 21, Friday Delhi Capitals vs Chennai Super Kings 7.00 PM Kolkata
May 22, Saturday Punjab Kings vs Rajasthan Royals 7.00 PM Bengaluru
May 23, Sunday Mumbai Indians vs Delhi Capitals 3.00 PM Kolkata
May 23, Sunday Royal Challengers Bangalore vs Chennai Super Kings 7.00 PM Kolkata
May 25, Tuesday QUALIFIER 1 7.00 PM Ahmedabad
May 26, Wednesday ELIMINATOR 7.00 PM Ahmedabad
May 28, Friday QUALIFIER 2 7.00 PM Ahmedabad
May 30, Sunday FINAL 7.00 PM Ahmedabad
IPL 2021: Schedule, timetable, match timings | Indian Premier League