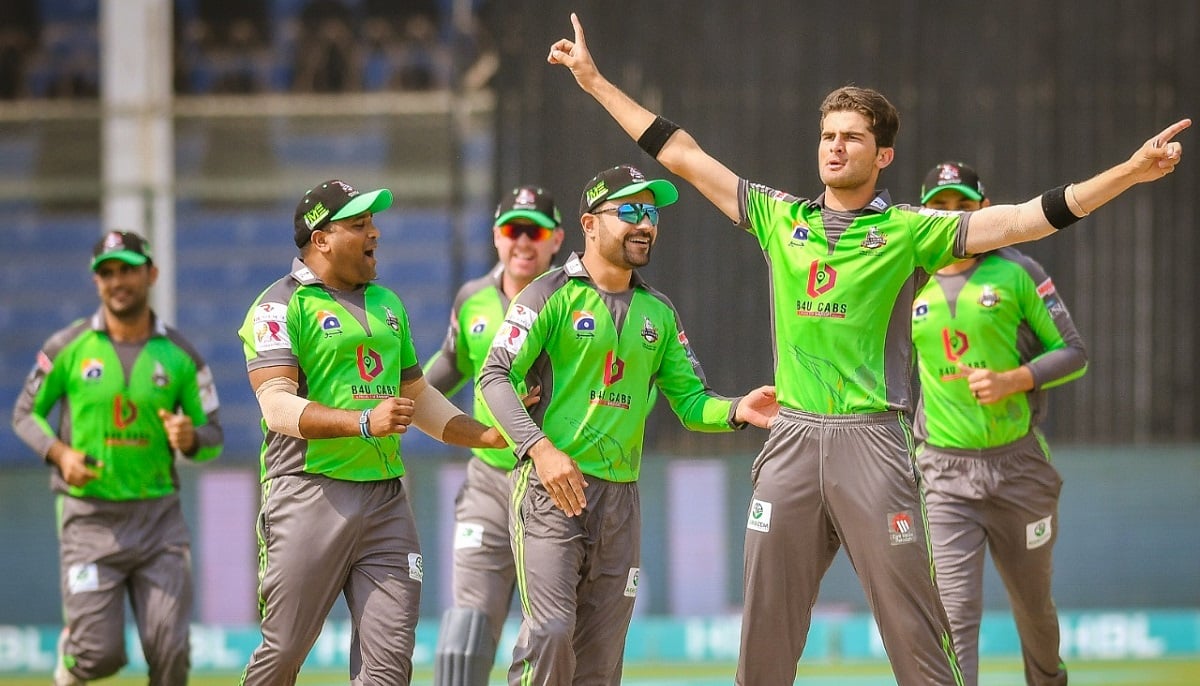 The Pakistan Super League (PSL) 2021 is now officially underway and matches are going to come thick and fast from here on.
It means that fans of the league must be in the know at all times regarding what lies ahead. You cannot afford to miss any match, especially the matches of your beloved teams.
What that in mind, Geo Super deemed it appropriate to re-publish the PSL 2021 schedule so you can circle your calendars, clear your timetables, turn off the phones and switch off the doorbells when the matches are being played.
PSL 2021 schedule:
Sat, 20 Feb - Karachi Kings v Quetta Gladiators (N) - starts 8pm; NSK, Karachi
Sun, 21 Feb - Lahore Qalandars v Peshawar Zalmi (D) - starts 2pm; Islamabad United v Multan Sultans (N) starts 7pm; both matches at NSK, Karachi 
Mon, 22 Feb - Lahore Qalandars v Quetta Gladiators (N) - starts 7pm; NSK, Karachi 
Tue, 23 Feb - Peshawar Zalmi v Multan Sultans (N) - starts 7pm; NSK, Karachi
Wed, 24 Feb - Karachi Kings v Islamabad United (N) - starts 7pm; NSK, Karachi 
Fri, 26 Feb - Lahore Qalandars v Multan Sultans (D) - starts 3pm; Peshawar Zalmi v Quetta Gladiators (N) - starts 8pm; both matches at NSK, Karachi 
Sat, 27 Feb - Karachi Kings v Multan Sultans (D) - starts 2pm; Peshawar Zalmi v Islamabad United (N) - starts 7pm; both matches at NSK, Karachi
Sun, Feb 28 - Karachi Kings v Lahore Qalandars (N) - starts 7pm; NSK, Karachi
Mon, 1 Mar - Islamabad United v Quetta Gladiators (N) - starts 7pm; NSK, Karachi
Wed, 3 Mar - Karachi Kings v Peshawar Zalmi (D) - starts 2pm; Quetta Gladiators v Multan Sultans (N) - starts 7pm; both matches at NSK, Karachi
Thu, 4 Mar - Lahore Qalandars v Islamabad United (N) - starts 7pm; NSK, Karachi
Fri, 5 Mar - Multan Sultans v Karachi Kings (N) - starts 7pm; NSK, Karachi
Sat, 6 Mar - Islamabad United v Quetta Gladiators (D) - starts 2pm; Peshawar Zalmi v Lahore Qalandars (N) - starts 7pm; NSK, Karachi
Sun, 7 Mar - Multan Sultans v Quetta Gladiators (D) - starts 2pm; Islamabad United v Karachi Kings (N) - starts 7pm; NSK, Karachi
Wed, 10 Mar - Peshawar Zalmi v Karachi Kings (N) - starts 7pm; GSL, Lahore
Thu, 11 Mar - Quetta Gladiators v Lahore Qalandars (N) - starts 7pm; GSL, Lahore
Fri, 12 Mar - Multan Sultans v Peshawar Zalmi (D) - starts 3pm; Islamabad United v Lahore Qalandars (N) - starts 8pm; both matches at GSL, Lahore
Sat 13 Mar - Quetta Gladiators v Karachi Kings (D) - starts 2pm; Multan Sultans v Islamabad United (N) - starts 7pm; both matches at GSL, Lahore
Sun, 14 Mar - Quetta Gladiators v Peshawar Zalmi (D) - starts 2pm; Lahore Qalandars v Karachi Kings (N) - starts 7pm; both matches at GSL, Lahore
Mon, 15 Mar - Islamabad United v Peshawar Zalmi (N) - starts 7pm; GSL, Lahore
Tue, 16 Mar - Multan Sultans v Lahore Qalandars (N) - starts 7pm; GSL, Lahore
Thu, 18 Mar - Qualifier (1 v 2) (N) - starts 7pm; GSL, Lahore
Fri, 19 Mar - Eliminator 1 (3 v 4) (N) - starts 8pm; GSL, Lahore
Sat, Mar 20 - Eliminator 2 (loser Qualifier v winner Eliminator 1) (N) - starts 7pm; GSL, Lahore
Mon, 22 Mar - Final (N), GSL - starts 7pm, Lahore
All matches of PSL 2021 can be watched live on Geo Super channel as well as on GeoSuper.tv/live
CHECK OUT: PSL 2021 POINTS TABLE
PSL 2021 schedule, timetable, match timings | Pakistan Super League