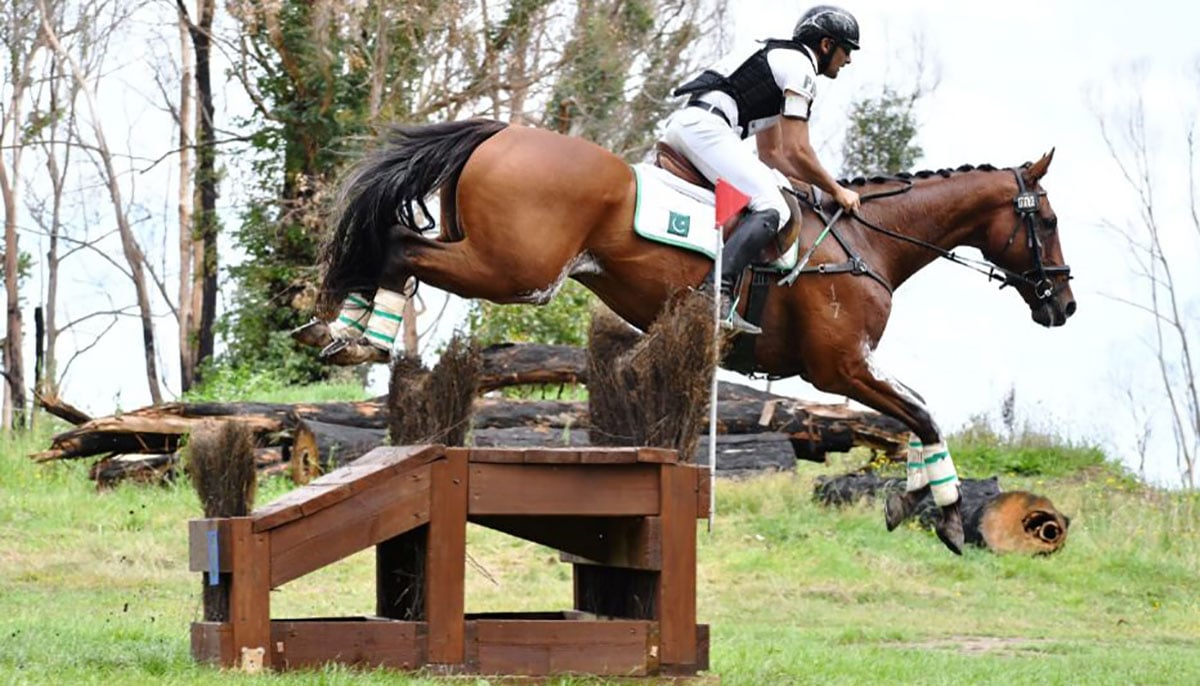 Pakistan equestrian Usman Khan's participation in the Tokyo Olympics is in doubt after his partner horse Azad Kashmir passed away last month.
Usman became the first-ever Pakistani last year to qualify for the Olympics' equestrian competition after obtaining the required status for eventing competitions. 
The Olympics, scheduled to be held in Tokyo in 2020 was later delayed for a year due to Covid-19.
While the qualifying status remains for already qualified athletes, the problem for Usman is the rule that one qualifies in equestrian competitions as a team of horse and rider.
But, his horse  passed away in September due to heart failure.
"It was a sad and shocking moment for us. Azad Kashmir was a brave horse and was in the best form," Usman told Geo Super. 
With Azad Kashmir passing away, Usman has to buy a new horse and obtain the required stars for him to retain Pakistan's position in the Games.
READ: Karate star Kulsoom Hazara reminds sponsors, govt there is more to sports than cricket
"Fédération Equestre Internationale (FEI) has told us to do five rounds of qualifications, previously with Azad Kashmir we did 12," he said. 
"The qualifying round is around the corner and we have to complete five rounds in next 8 to 9 months to retain Pakistan's qualification in the Olympics."
But, this is not an easy task for Usman – who also works as an IT professional in Australia.
He said that previously he managed everything – from horse's training to participating in events – from his life-savings, but now it is becoming difficult for him due to short time.
"See, I can earn the money, but it will take time, like eight to 10 months. But, after eight months, even a million dollars won't be able to help me retain my place in Olympics as the qualifying process is happening now," he said.
"I never asked for anything before, but now I need support to ensure Pakistan's place in Olympics equestrian competition which will be a historic moment for the country."
In a bid to make ends meet he has also initiated crowdfunding for his support.
"Even if you can't help me financially, I want my countrymen to pray for my success in my mission to raise Pakistan's flag in the Games," he said. 
"We can still do it; together we can make it happen."
Equestrian Usman Khan's Olympic dream hangs in balance due to horse's death