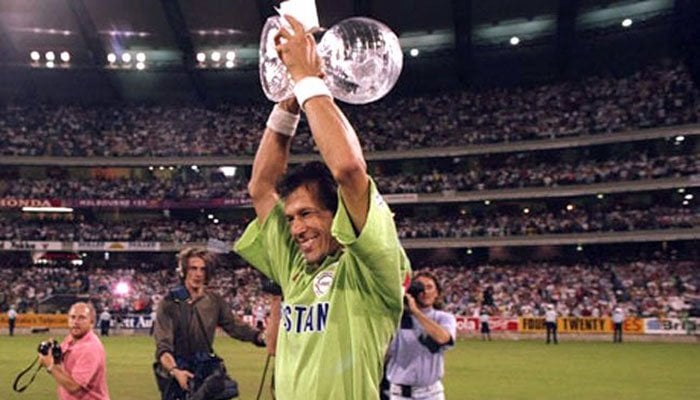 Exactly 28 years ago today, Pakistan celebrated their national team's only ODI World Cup triumph.
Almost three decades later, with the country partially locked down, the cricket fraternity is recalling the triumph.
Tributes for the team, the then captain and now prime minister, Imran Khan, as well as the iconic crystal trophy are pouring in, even more so than the previous years because the world of sports is at a standstill and memories are all what the fans have of the gentleman's game.
The Pakistan Cricket Board (PCB) was naturally the first one to share a flurry of posts celebrating arguably the biggest underdog victory in World Cup history.
A homage showed up on the International Cricket Council's Twitter account as well.

Wasim Akram, the player of the final, with his valuable knock and the iconic deliveries. 
Here is the winning moment and trophy lift:
And those who want to re-live the match and how it must have felt in real-time can check the big final's retro live scoring by ESPN.
Here is what the trophy looks like today:
Cricket fraternity marks 28th anniversary of Pakistan's 1992 World Cup win